Do you see that ooey-gooey, nutty goodness amidst the chocolate? Oh yeah, baby. THAT'S why I LOVE these brownies. THAT'S why they're my all time FAVORITE. Mmm-MMM! And don't let the steps (or the margarine) fool you, either. They're pretty easy and most definitely worth it.
Ingredients:
50 Kraft caramels (1 pkg)
1 Cup Evaporated Milk, divided
1 German Chocolate Cake Mix
3/4 Cup (1.5 sticks) Margarine, melted (as much as I LOATH to say it, butter does an ok job, but margarine does it better. Please tell me I never have to say those words again…)
1.5 Cups Chocolate Chips (your favorite–we use semi-sweet)
1 Cup Chopped Walnuts or Pecans–pecans are shown here, optional
1. Preheat oven to 350 degress F, and unwrap all the caramels into a medium-small microwavable bowl.
2. Add 1/2 Cup Evaporated Milk to the caramels and microwave for 1 minute increments (about 5 increments), stirring between each minute until smooth and creamy (or melt in a double broiler). Set aside.
3. Mix the cake mix, the last half cup of evaporated milk, and melted margarine with a mixer for 3-4 minutes until everything is well incorporated, smooth, and light brown in color. The batter should be fairly stiff.
4. Pour 1/2 of the cake batter into a greased 9×13″ cake pan and smooth to the edges.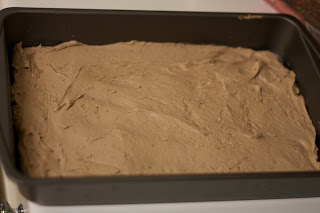 5. Bake for 6 minutes.
6. Sprinkle chocolate chips and nuts over the cake, immediately after removing it from the oven. They may sink a little and that's ok.
I was trying to appease the nut-lovers (myself and Mr. Blue Eyes) and the nut-haters (the kids) and did half and half. What we won't do for love? (notice they're equal halves…muahahahaha!)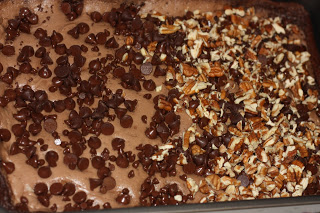 7. Pour creamy caramel mixture over the chips and nuts.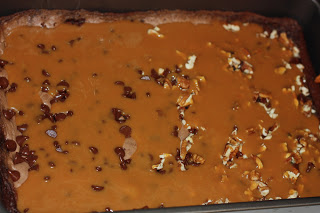 8. Using the unused portion of the cake batter, drop spoonfuls over the caramel. Try to smooth it out over the top as best you can. Sometimes it seems like it doesn't work too well, but don't give up! Even if you can still see mostly caramel, it's ok. (That has happened to me.) The cake batter seems to have a mind of its own and knows to bake up over the caramel.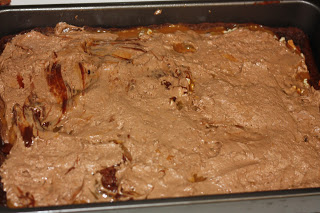 9. Pop it into the still-hot oven and bake again for 18 minutes. Voila! The yummiest brownies you'll ever eat!
10. Cool completely and dive in!
A Few Notes:
~Kraft caramels melt the best.
~German Chocolate Cake mix tastes and bakes the best, although I have used Devil's Food and Swiss Chocolate and they turned out fine, too. The German Chocolate seems to hold the chips and nuts up best.
~I have seen recipes that use caramel ice cream topping–the kind in the microwavable jar–in place of the caramel/milk mixture. I have never tried it, but it seems like a good idea if you're in a pinch.
~There is really no way (that I know of) to test to see if these are done. Because of the caramel, they will always be slightly "jell-o-ish" (is that even a word?!) right after you get them out of the oven. There's no harm in leaving them in for a few extra minutes just in case, but be careful not to overcook them. Hard brownies/hard caramel = No Bueno!
~I don't know why, but I have never made a batch that didn't "fall" a little. If you know why this is and how to prevent it, PLEASE let me in on your secret!
~And this is the most important! These are a taste-melding brownie. As much as I love hot, fresh-from-the-oven brownies, these taste the best when they are made the day before (or the morning of at the latest). Trust me.
Source: The best mama in the world, Karri H!
~Kara