It's not my normal recipe posting day, but I just had to go ahead and share this for two reasons. One, it involves an ingredient that is going to be more prevalent right now and will, after Halloween, be on super sale. Two, I seem to have an obsession with peanut butter and chocolate. Butterfinger is one of my favorite candy bars, so when I saw this recipe floating around Pinterest, I had to give it a try. I was skeptical because, really…three ingredients? But one bite and I was forced to exclaim (exclaim, people!) "Oh my gosh, it tastes just like it!" I hope you enjoy it. I'll be stocking up on some cheap candy corn this season!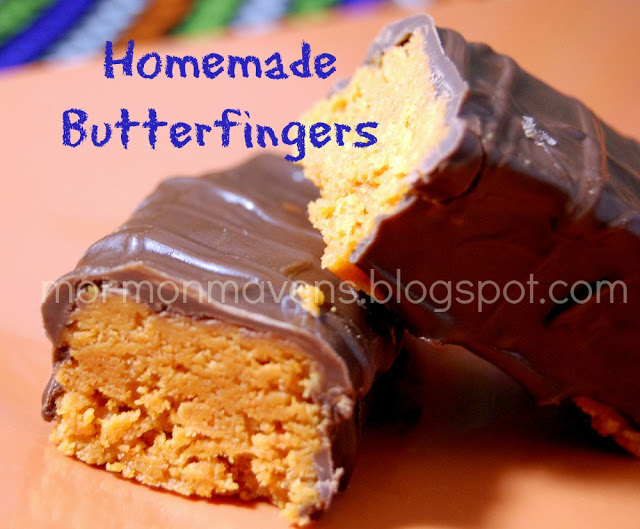 Ingredients:
1 lb. candy corn*
1 lb. creamy peanut butter
1 lb. chocolate candy coating**
1. Prepare an 8″x8″ pan with a light coat of cooking spray. Lay parchment paper or wax paper in the pan so that it covers the bottom of the pan, leaving the ends hanging over two edges. (You will use these "handles" to lift out the bars, making it easier to cut them and set them out for chocolate coating.)
2. Lightly coat a glass mixing bowl with cooking spray. Place the candy corn in the bowl and microwave in 30 second increments, stirring in between, until the candy corn is melted. Stir in the peanut butter and continue to stir until the mixture is smooth. Pour this mixture into your prepared pan and spread evenly. Chill until set.
3. Remove the bars by lifting the parchment paper "handles" and place on a cutting board. Cut into bars. Place a piece of wax paper on a cookie sheet and set a wire rack over it. Set bars one inch apart onto the wire rack.
4. Melt the chocolate candy coating according to the directions. Using a small spoon, pour chocolate on top of a bar along its length; then using an small offset spatula or a butter knife and spread the chocolate flat along the top. The chocolate will ooze down the sides, so use the knife to spread the chocolate along the sides of the bars. Allow to set, or place in fridge to set.
Note:
*The first time I made these I used the only candy corn I could find at Walmart, but it's technically Indian Corn. It's the one with brown instead of yellow, and it DOES have a different flavor. The final product was good but did not taste very much like Butterfinger and did not have that bright orange color. So DON'T use anything but the traditional candy corn. Also, the recipe calls for a pound, but I found it in 14 ounce bags. That worked fine.
**You can find this in the baking aisle at the grocery store. It usually comes in a flat package that has a tray inside that can be used as its own microwave container. I was able to use it for 2 batches because I didn't dip the entire bar in it, like the original recipe stated.
Source: It's on multiple sites and blogs, but I got it from
Plain Chicken