I owe Ina Garten, The Barefoot Contessa, so much! The kids and I used to love to watch her show on Food Network. I found it so relaxing to watch her whip up all sorts of plain and fancy food. But it was when I saw how she roasted chicken breasts that the quality of many of our meals changed for the better.
Ina Garten, The Barefoot Contessa
I now use nothing but bone-in, skin-on chicken breasts rubbed with olive oil and sprinkled with kosher salt and fresh ground pepper, baked at 350 degrees for one hour. After the chicken has cooled, I remove the meat and pull it apart into bite size pieces. It's so moist and tender, even after it's been refrigerated. I ALWAYS SAVE THE SKIN, BONES, AND PAN DRIPPINGS and place them in a bag in the freezer!! This is what I use to make one of my favorite ingredients…..homemade chicken stock.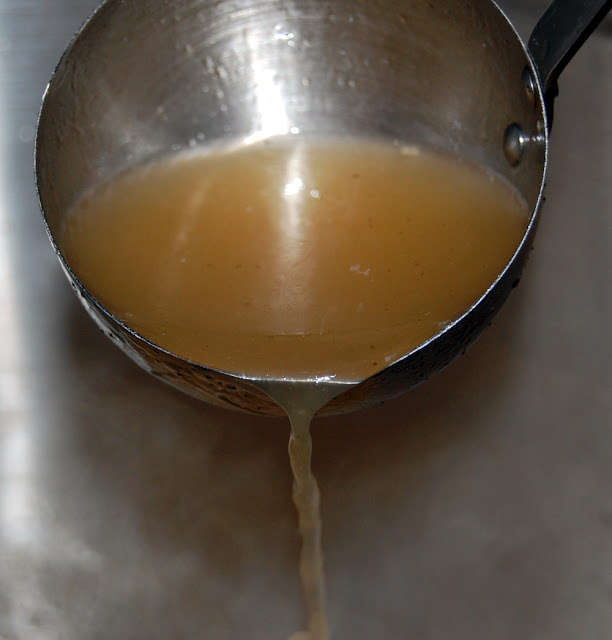 Ingredients:
bones, skin, drippings from baked chicken
onions
carrots
celery
salt
pepper
herbs of your choice
water
1. Place chicken "scraps" into a large stock pot. Chop veggies in half and toss in the pot. (You don't even have to prep the veggies, beyond making sure that they are not dirty. Carrot tops, celery leaves, and onion skins all add extra flavor.)
2. Fill pot an inch or two above level of ingredients. Bring to a boil, then to a simmer for several hours, adding more water as necessary.
3. Once the stock is done, allow it to cool until it can be poured into freezer containers. (I like to use these 32 oz containers from plasticcontainercity.com; they are awesome!)


4. Strain chicken stock through a sieve either before pouring into containers, or as you pour (depending on the size of your sieve). Leave 1/2″ to 1″ head space. Allow to cool until they are just warm before putting on lids, and placing in freezer.
To use: Sometimes I remember to thaw a container or two, but usually I just run the container under hot water until the "stock block" slips out. Then I put it straight into a pot on medium high heat until it has melted. This is great for homemade soups, risotto (obviously), and for cooking lima beans in instead of water.
Source: adapted from Ina Garten's recipe