I'd been wanting to try this recipe for a while, since first seeing it on Annie's Eats (one of my favorite cooking blogs). When I saw an idea for Mexican-inspired hot dogs on Pinterest, I figured now was as good a time as any to give it a shot! (Incidentally, those Mexi-Dogs are coming in a recipe post soon.)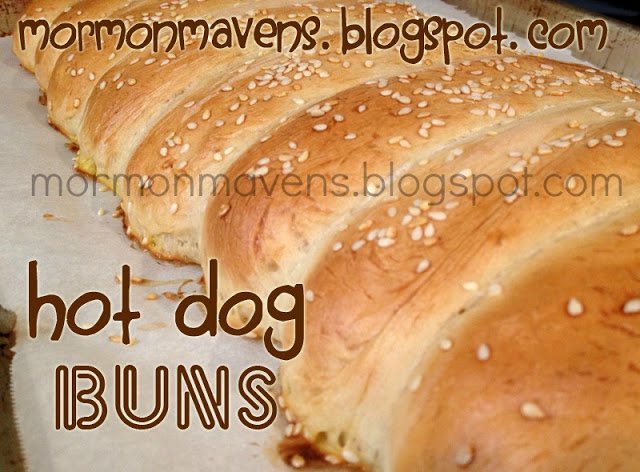 Ingredients:
1 Tbsp. sugar
2 1/4 tsp. instant yeast
1/4 cup warm water (105-110 degrees F)
1 cup warm milk
1 Tbsp. vegetable or canola oil
1 tsp. salt
3-4 cups all-purpose flour
1 beaten egg with 1Tbsp. water
sesame seeds, optional

Directions:
In the bowl of a stand mixer, combine the sugar, yeast, and warm water. Stir in the milk, oil, salt, and 3 cups of the flour. Using the dough hook, mix until well combined.
One tablespoon at a time, add in more flour (up to one cup) until dough pulls away from the side of the bowl or until it is no longer wet/sticky. The full cup may not be needed. I used about 7 tablespoons this time. Machine-knead on low for 5-7 minutes; the dough should be smooth and elastic at this point.
Turn the dough into a lightly-oiled bowl, turning over to coat the entire surface. Cover the bowl and let the dough rise until doubled, about an hour.
Line your baking sheet with parchment paper. Turn the dough out onto a work surface sprayed with nonstick cooking spray (I used a flexible cutting mat). Use your kitchen scale (I used mine on "grams" for easier math!) to divide the dough into 9 equal portions. Shape each portion into a ball, and then into a cylinder about 4 1/2″ long. Place on the parchment paper, flattening each bun just slightly. Place the buns next to each other to where they almost touch. (They'll kind of morph into each other as they sit there.) Cover with a clean kitchen towel and allow to rise until almost doubled, about 45 minutes.
Preheat oven to 400 degrees. Brush bun tops with the egg wash; then sprinkle with sesame seeds, if desired. Bake for 18-20 minutes or until golden brown. Place the buns on a wire rack to cool.
Notes:
Upon sampling the buns plain, we all thought they needed a bit more salt. But eaten with the actual hot dog and fixin's, we didn't even notice. Still I may try a little more salt next time.
If you don't have a kitchen scale, you really should get one. I used to scoff at celebrity chefs who used them, but I'm a believer now. I got an inexpensive one at Target that can be read with either grams or ounces/pounds. I use both, depending on what I'm doing.
Parchment paper, too, seemed unnecessary to me at one time; but after trying it, I have to admit that I love it. Clean up is a breeze. No more scraping things off the cookie sheet!
You can either cut the tops or the sides of these buns, but I prefer top-cut.
Source:
Annie's Eats