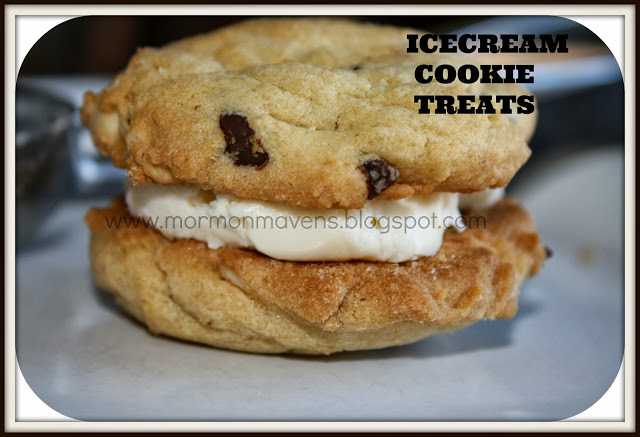 A treat now and then is good for everyone! This is really ridiculously yummy! So, easy to put together and the kids love them, ofcourse.
Ingredients:
1 c. Butter Flavored Crisco
3/4 c. Granulated Sugar
3/4 c. Brown Sugar
1 tsp. Vanilla Extract
2 Eggs
*Blend these ingredients until smooth.
2 1/2 c. All-Purpose Flour
1 tsp. Baking Soda
1 tsp. Salt
*Add these ingredients to the first mixture.
1/2 c. Semi-Sweet Chocolate Chips
1/2 c. White chocolate chips
*Add chips to mixture.
—————–
Vanilla icecream
Directions:
Drop by rounded tablespoons on a greased cookie sheet. Bake in preheated oven at 375 degrees for 9-12 minutes or until barely golden brown! Remove cookies from baking tray and place on cooling rack. Let them cool completely then add a tablespoon of vanilla icecream to the cookie and gently press another cookie on top. Serve immediately.

*You can add any kind of chocolate chips, or nuts, candies, anything to these!