It's time for us to share some freezer meals on Mormon Mavens in the Kitchen! I mean, it's back-to-school season and we are all pressed for time with all the added stresses that entails. So how about we take the next couple o' weeks and share some of our favorite freezer-friendly recipes with you?
I chose to share a breakfast freezer recipe. Pancakes? Well, not exactly. These are pancakes disguised as muffins! Make a big batch ahead of time, cool, freeze, and take them out the night before to thaw. Serve with warmed maple syrup and you've got a great breakfast treat without having to get up early!
Itty Bitty Pancake Muffins
Ingredients:
3 cups flour
1 Tbsp. baking powder
1/4 cup sugar
3/4 tsp. salt
2 1/2 cups milk
1 Tbsp. white vinegar
2 eggs
1 Tbsp. vanilla extract
4 Tbsp. butter, melted
blueberries or chocolate chips, optional
warmed maple syrup for serving
1. Preheat oven to 425 degrees. Combine dry ingredients and whisk well to combine.
2. Combine milk and vinegar and allow to sit for one minute. Then whisk in the eggs and the vanilla.
3. Pour the wet mix into the dry mix and mix by hand until just combined. Then added the melted butter adn stir to combine. (Add more milk if batter is too thick, more flour if it is too runny.)
4. Spray a mini-muffin tin with baking spray and fill cups only 2/3 full. Then top with 3 blueberries or a few chocolate chips (I use maxi chips, so I only need 3 chips).
5. Bake for 8-10 minutes. Tops don't really brown much, but the sides do. Let them sit in the pan for a minute or two and then take them out of the pan. I use a plain ol' cereal spoon for this. I run it around the edge and then the muffin scoops out easily!
To freeze, just let them cool completely and then place them into a freezer bag in one layer, flat. Seal the bag almost all the way and then use a drinking straw to suck out as much air as you can. Seal, date, and freeze. Use within a few weeks to avoid freezer burn.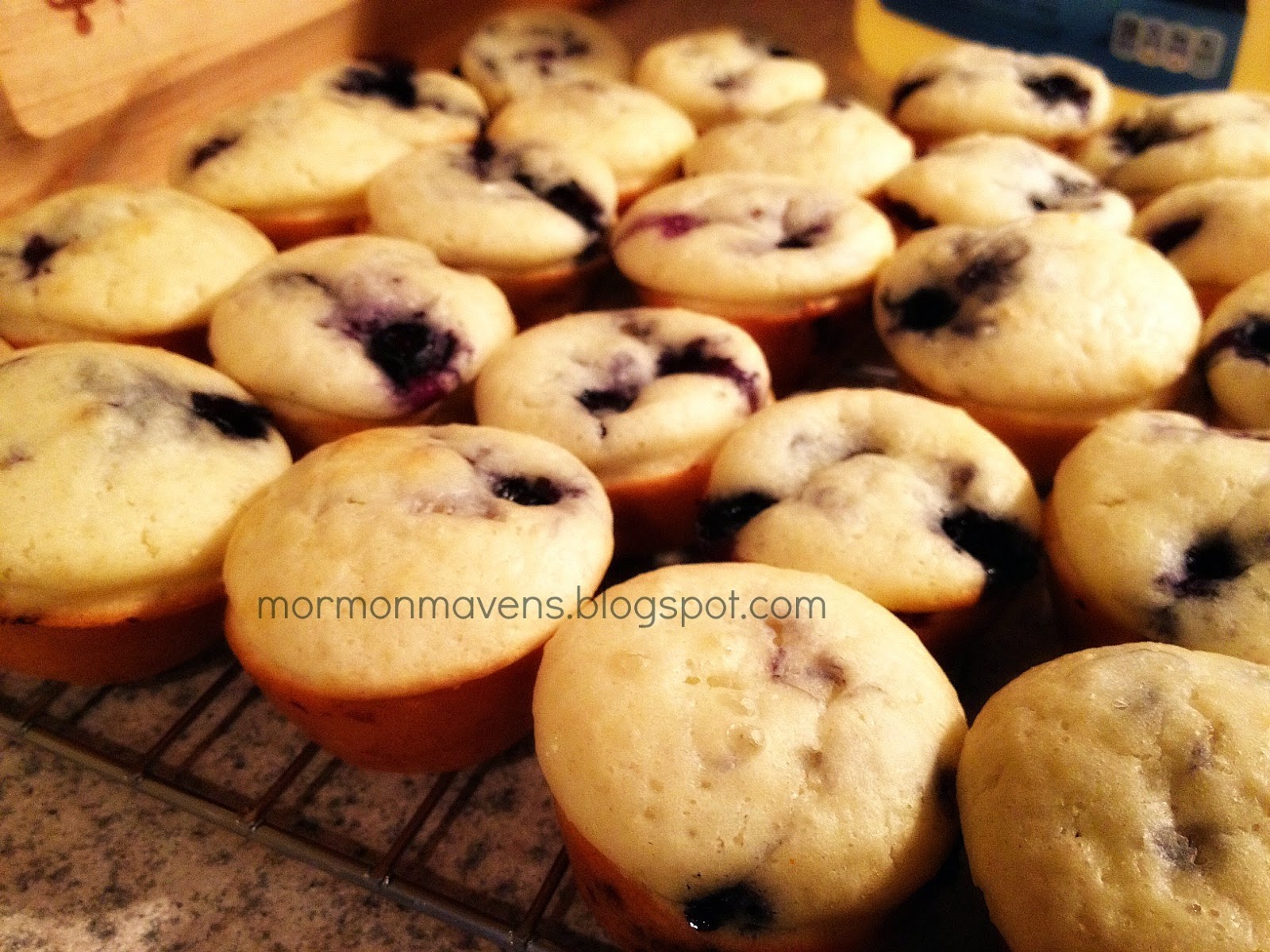 Source: very slightly adapted from The Pioneer Woman