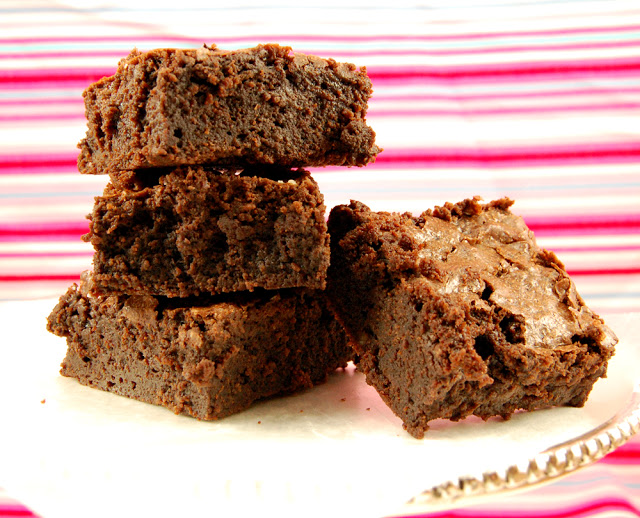 I've been in search of a great brownie recipe for years. A few of them made the cut, but none satisfied my yearning when it came to texture. I don't know why, but for some reason nothing beats the texture of a store-bought brownie mix. Okay, maybe you don't agree, but I love them there mixes!
Recently, I decided that even though my brownie search had left me jaded and disillusioned (drama queen? I don't know what you're talking about), I would open up my heart to yet another brownie recipe.
And this time….wait for it….I found LOVE!
This recipe comes the closest by far to duplicating (or at least closely mimicking) that elusive brownie-mix texture I've come to know and love. And, as with so many brownie recipes, they get better with age. (Yes, I appreciate brownies more as a middle-aged woman but I'm talking about the brownies' age, not mine…they are better the next day.)
So, now that I've found it, this recipe will now be named (at least in my house) My Best Brownies!
Ingredients:
1 1/4 cup all-purpose flour
1 tsp. salt
2 Tbsp. unsweetened cocoa powder
11 ounces dark chocolate, coarsely chopped*
1 cup butter, cut into 1″ pieces
2 cups sugar
5 eggs
2 tsp. vanilla
1. Preheat oven to 350 degrees. Butter sides and bottom of a 9×13-inch glass pan. Line with parchment paper (you will use the ends of the parchment to lift out the brownies later).
2. In medium bowl whisk together: flour, salt, cocoa.
3. Put chocolate and butter in a large bowl set over a saucepan of simmer water. Stir occasionally until completely melted and smooth. Turn the heat off, but keep the bowl over the pan and add the sugars. Whisk until thoroughly combined. Remove bowl from pan and set aside to cool to room temperature.
4. Add 3 eggs to the chocolate mixture and whisk until combined. Add remaining eggs and whisk until combined. Add vanilla and stir until combined, being careful not to over-mix.**
5. Sprinkle flour mixture over chocolate mixture. Use a rubber spatula (not a whisk) to fold in the flour mixture. There should be just a bit of flour visible when you STOP mixing.
6. Pour batter into pan and smooth the top. Bake for 30 minutes, but rotate the pan halfway through the baking time. Brownies are done when a toothpick inserted in the center comes out with just a few moist crumbs sticking to it. Let the brownies cool completely. Lift them out using the parchment paper. Cut and serve.
Makes 24 brownies; serve with ice cream, warmed up peanut butter (as a sauce), and Bittersweet Chocolate Sauce
Notes:
*I didn't have enough dark chocolate so I mixed what I had: some German chocolate, plain ol' baking chocolate, and some dark chocolate.
**Over-mixing will result in cake-y brownies.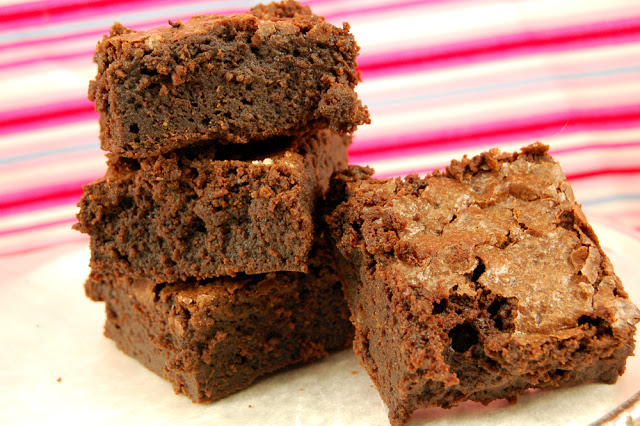 Source: slightly adapted from Brown Eyed Baker