Contrary to what you may think, there is no cheese involved in this recipe…but lots of gooey PB and other crunchy toppings to satisfy your snacky cravings. Thanks to Pinterest and Manifest Vegan we now have another healthy (not to mention FUN) morsel to make with the kids. 😉
Ingredients:
Apples (we usually have Gala or Pink Lady…but use your fav.)
Lemon Juice/Fruit Fresh/or Lemon Lime Soda (if you don't want them to brown)
Peanut Butter (about 1/2 C per 2 apples), Warmed
Craisins (Dried Cranberries)
Shredded Sweetened Coconut
Slivered Almonds (or any other type of chopped nut)
The best part about Apple Nachos is that you can use
as much or as little of your choice of ingredients as you would like!
And the kids LOVE to help!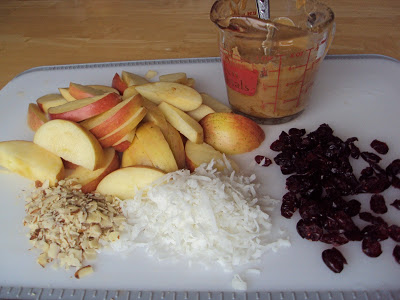 First, just get your apples washed and sliced.
If you want to prevent them from browning, put the apples in a bowl
or ZipLock bag and pour either lemon juice, a Fruit Fresh solution
or some lemon lime soda (like 7Up or Sprite) over them and stir
or shake to coat them completely.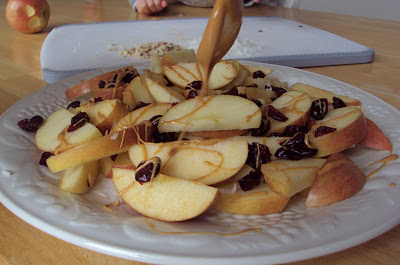 Warm up the PB in a microwaveable cup or dish.
I did 1/2 C for about 30-40 seconds.
When you get the apples on the plate, just start piling it on!
We started with the Craisins, then drizzled that melty PB all over.
Mmmmmmm. Melty Goodness.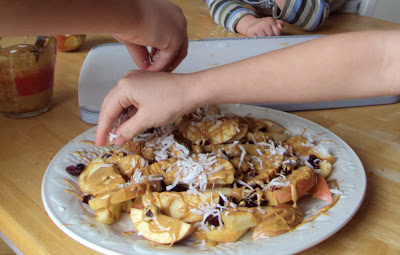 Some how those little people always make their way into my pics. 😉
And…….Voila! Apple Nachos!
Mmm Hmmm…They're sticky, alright!