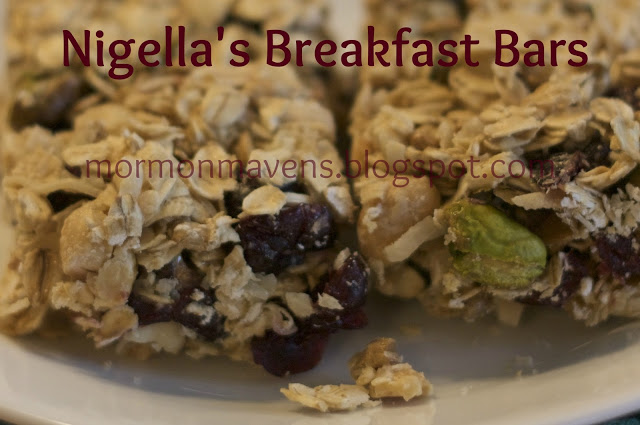 Mr. Blue Eyes' parents gave us a Nigella Lawson cookbook a few years ago and there are some fabulous recipes in it. I mean, c'mon. It's Nigella we're talking about. These granola bars are so easy and so good that we eat them morning, noon, and night!
Ingredients:
1 14 oz can Sweetened Condensed Milk
2.5 Cups of Rolled Oats (not instant!)
1 Cup Shredded Coconut
1 Cup Dried Cranberries
1 Cup Mixed seeds* (Nigella suggests pumpkin, sunflower, sesame)
1 Cup Natural Unsalted Peanuts
1. Preheat the oven 250 degrees F and spray a 9×13″ pan.
2. Warm the Sweetened Condensed Milk in a sauce pan. Ms. Lawson suggests a Large one; I used a small one. Tomato, Tah-mah-toe.
3. In a Large mixing bowl, mix all the other ingredients together. Pour the warmed milk over the top and fold it over until everything is looking gooey and good!
4. Press the mixture into your greased pan. At Nigella's suggestion I used a latex (or non-latex for all you latex-sensitive people) glove. Make sure you press down fairly firmly and pack it well. We had trouble with crumbling. Not that that makes it taste any less delicious!
5. Bake for 1 hour. After it's cooled about 10 minutes, cut 4×4 length to width and remove from pan to cool completely.
Store in an airtight container. Makes 16.
*Notes:
1. We have used Unsalted Cashews (1/3 Cup); Salted, shelled pistachios–pictured above (1/3+ Cup); Sunflower Seeds (1/3- Cup). They turned out great!
2. When she says natural, unsalted, she means it. Unsalted just seems to turn out better.