I thought I would bring back one of my favorite bean recipes because it has turned cold this week and this sounds like something I might want to eat for supper soon. Also, we got to meet our friend Tim for lunch recently and he gave us the recipe. He flew in for a job interview and it was great to catch up!
Make a double batch–there were no leftovers at my house! Loved by young and old alike, this will be a hit at your next covered dish supper or BBQ.
Originally published February 25, 2016.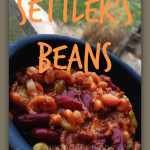 Old Settler's Beans
2016-02-24 07:18:39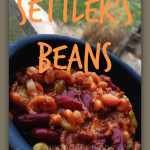 Delicious side dish, perfect for grilling out.
Ingredients
1/2 lb. ground beef
1/2 lb. bacon, cut in small pieces
1 large onion, diced
1 can green butter beans (I think it's probably Lima beans, so that is what I used)
1 can kidney beans
1 can pork & beans, undrained
1/3 cup brown sugar
1/3 cup white sugar
1/4 cup catsup
1/2 T. dry mustard
2 T. molasses
Dash of Worcestershire sauce
Instructions
In a dutch oven, brown the hamburger, bacon , and onion together. Do not drain.
Add all the beans and stir together.
Mix the remaining ingredients together and then add to the bean/meat mixture. Stir to combine.
Bake at 350 degrees for 1 hour.
Notes
This can be cooked in a covered dutch oven over hot coals for about an hour and would be great on a camping trip.
Adapted from Tim & Casey Van Buskirk of Tucson, AZ.
Adapted from Tim & Casey Van Buskirk of Tucson, AZ.
Mormon Mavens https://www.mormonmavens.com/