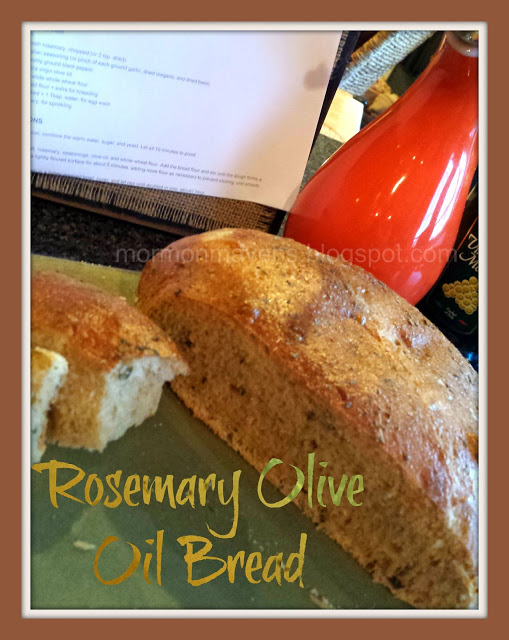 Sometimes I just forget about Pinterest. Can you even fathom that? And really, that is not a bad thing. But once in a while I will go to my boards and find something that I really want to try. This week it is this yummy bread–reminiscent of the bread at
Macaroni Grill
. Just sayin'. When I made this tonight, I put together a little "Italian Salsa" to dip the bread in, just like in a restaurant. When we lived El Paso, Texas, we went to another Italian place called
Johnny Carino's
–best Chicken Scaloppini on the planet, by the way–and when the waiter brought out the bread, he poured some olive oil in a little plate, added a little balsamic vinegar and some herbs and BAM! He called it Italian Salsa. You know because we were in Mexican salsa territory. Get it?
Ingredients:
1 cup warm water (100-110 degrees F)
1 T. sugar
2 t. active dry yeast
1 t. salt
2 T. fresh rosemary, chopped (you can use 2 t. dried, instead)
1/4 t. Italian seasoning
1/4 t. black pepper
2 T. extra virgin olive oil
1 1/2 cups white whole wheat flour
1/2 cup bread flour, plus extra for kneading
1 egg, whisked with 1 T. water, for egg wash
dried rosemary for sprinkling on top
Directions:
1. In a large bowl, combine the warm water, sugar and yeast. Let sit 10 minutes to proof.
2. Stir in the salt, fresh rosemary, seasonings, olive oil, and whole wheat flour. Add the bread flour and stir until the dough forms a ball. Knead on a lightly floured surface for about 5 minutes, adding in more flour to prevent sticking and for a smooth dough.
3. Place the dough in a lightly greased bowl; cover and let rise until doubled in size, about 1 hour.
4. Punch down the dough and form into a round loaf. Place on a cornmeal dusted pizza peel or parchment paper (I used this), cover and let rise until doubled in size, about 45 minutes.
5. Meanwhile, preheat oven and a pizza stone to 400 degrees F. When the dough has risen, gently brush top with egg wash and sprinkle with some dried rosemary.
6. Bake for 20-25 minutes or until the top is golden brown and sounds hollow when you tap on it.