Yes. Another Taco Soup recipe, but this one is a family favorite. I used to make it all the time and I have missed it.
Just yesterday I realized that this would be perfect for dinner since our cute sister missionaries were joining us! So excited to look it up in our Brew Family Cookbook–this is my go-to for meal planning.
And guess what? This is one of the recipes that Julie submitted for the cookbook! I don't think she will mind, do you?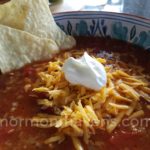 Taco Beef Soup
2018-06-13 13:31:29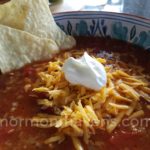 Ingredients
1 lb. ground beef
1/2 cup chopped onion
3 cups water
2 (14-oz.) cans diced tomatoes, un-drained
1 (16-oz.) can kidney beans, un-drained
1 (16-oz.) can tomato sauce
1 envelope taco seasoning mix or 1/4 cup from bulk mix
Instructions
In large pot, cook ground beef and onions until browned. Drain off fat.
Add remaining ingredients.
Simmer soup, covered, for 15 minutes.
Top with grated cheese, corn chips, or sour cream.
Adapted from Brew Family Cookbook, Vol. II, Strange Brew
Adapted from Brew Family Cookbook, Vol. II, Strange Brew
Mormon Mavens https://www.mormonmavens.com/