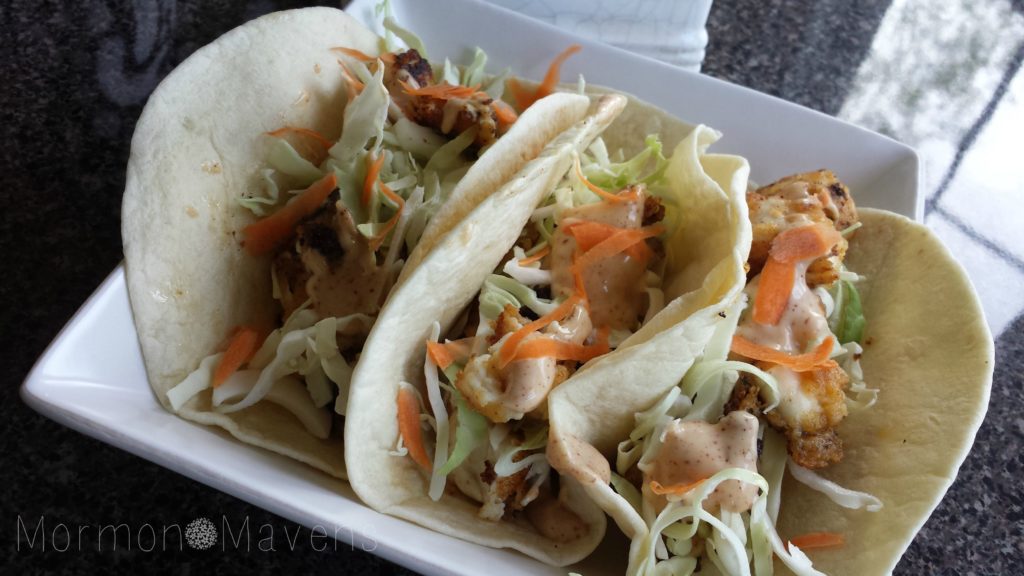 Who doesn't love a good fish taco? They can be hard to find–can't stand when they are too fishy. The tilapia in this recipe is so mild you will swear you are eating chicken. I kept snatching nuggets and snacking on them while I was frying up the other batches. A nice healthy alternative to fast food tacos. Now, authentic Mexican tacos…that's another thing all together.
Fish Tacos with Lime Sauce
2016-04-15 06:09:53
Que rico!
Ingredients
1 lb. fresh tilapia fillets
3 limes (I used Thrive Limeade powder instead--a tsp. or so should be enough.)
1/2 cup mayonnaise
1 t. chili powder
2 T. olive oil
1/3 cup all-purpose flour
1/2 t. salt
8 6-inch flour tortillas
1 cup shredded angel hair cabbage (I prefer it thin)
1/4 cup shredded carrots
1 jalapeno or serrano pepper, thinly sliced
Instructions
Rinse fish and pat dry. Cut into 1-inch pieces.
For lime sauce, juice two of the limes into a bowl (cut your 3rd lime into wedges for serving). Stir mayonnaise and chili powder into juice. Transfer 1/3 cup of the sauce to another bowl; toss fish in this. Set remaining sauce aside.
In a medium to large skillet, heat oil over medium heat. Combine flour and salt in a shallow dish. Work with about 1/3 of the fish chunks at a time, toss them in the flour and add to hot oil. Cook for 2-4 minutes or until fish flakes easily, turning to brown evenly. Add more oil as needed. Drain fish on paper towels.
Wrap tortillas in paper towels (loved this. worked great!); heat in microwave oven for 30 seconds. Top tortillas with fish, cabbage, carrots and jalapeno. Drizzle with Lime Sauce. Serve with lime wedges.
Notes
Add lime juice to mayo gradually and to taste.
Thrive Limeade powder is available seasonally, so may not be listed on my consultant site.
Mormon Mavens https://www.mormonmavens.com/