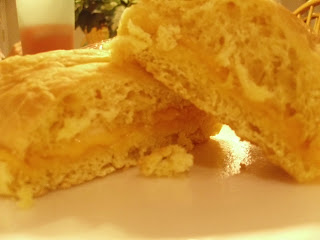 This is a twist on an old favorite and very easy. This is baked instead of grilled on French, Italian, or homemade Sweet Potato Bread. No butter is used, making it lower in fat. Baking also gives a light crispiness throughout the bread coupled with the blend of the three cheeses – this is Yummy!
Ingredients;
2 Loaves French Bread cut in half horizontally
Garlic Powder (optional)
8 slices cheddar cheese
3/4 cup shredded (not powdered) Parmesan Cheese
1 1/2 cups shredded Mozzarella Cheese
1. Place cut bread halves on cookie sheet
2. Lightly sprinkle halves with garlic powder
3. Place 4 slices of cheddar cheese on one side of each set of halves
4. Sprinkle Parmesan Cheese on opposite side of each set of halves
5. Sprinkle Mozzarella Cheese on top of Parmesan Cheese
7. Bake at 400 for 10-15 minutes depending on how crispy you like your bread
8. Remove from oven, place halves together, and cut in desired lengths – Enjoy!
Source: A Jennie original