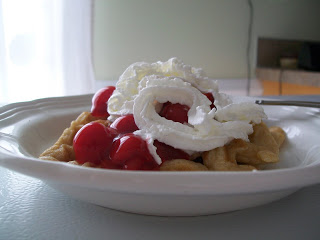 Even picky eaters will eat these and they are so easy to make. I usually make several batches at one time so that I can have something quick to warm up for breakfast. Since they're made with whole wheat they are very filling so it doesn't take many to make a meal!
1 3/4 c. whole wheat flour (I've been using white wheat)

2 tbs. sugar

1 tbs. baking powder

2 eggs

1 3/4 c. milk

1/2 c. oil or melted butter

1 tsp. vanilla
**Spoon the whole wheat flour into the measuring cup-that will prevent it from "packing" and making the waffles too dense.

1-Sift the dry ingredients into one bowl.

2- In a separate bowl mix the wet ingredients.

3-Combine & cook.
A treat at our house is to get a can of cherry pie filling and whipping cream to go on top of the waffles. What's some of your favorite waffle toppings?
Recipe source: unfortunately I'm not sure where I got this from. I had it up on another blog of mine with a link (the link is no longer valid). Searched a few I know have whole wheat recipes on them with no success. If anyone has used this recipe and knows where it's located please let me know so that I can give credit where credit is due!