These are my most favorite rolls to make and favorite to eat!
2 Tbs. yeast
1/2 c. warm water
3 c. milk
2 tsp. salt
1/2 c. sugar
3 eggs
2/3 c. shortening or oil (I always use shortening) 8 c. all purpose flour or more
Dissolve yeast in 1/3 c. warm water, set aside until puffy. Mix milk, sugar, salt, and shortening in saucepan; heat to scalding. After cooled, pour milk mixture into mixing bowl; add beaten eggs and yeast. Mix in flour to make soft dough. This is pretty sticky and soft, you made need to add more flour. Knead 5 minutes until smooth and elastic. Let rise for 1 hour.
Punch down. Pull off desired amount and shape into rolls. Let rise in greased floured pans for 30-45 minutes. Bake at 400 degrees for about 10-15 minutes or until lightly brown on top. Butter the top and eat! Wow! Look at that roll! YUM!!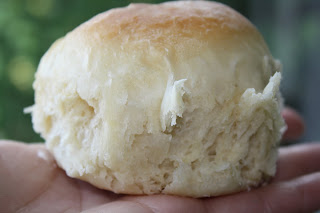 adapted from Bobbie Syphert's recipe.