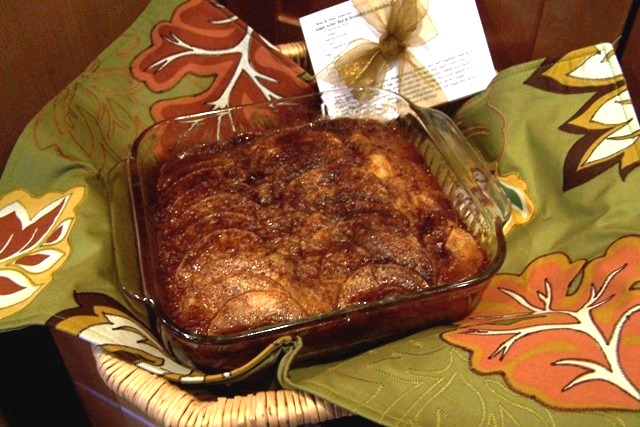 We wanted to take a General Conference invitation to our neighbor across the street a couple of Sundays ago so I thought I would sweeten the deal with something homemade from the kitchen. I quickly checked out the recipes for coffee cake in a cool Bed & Breakfast cookbook that I picked up at a Scholastic Book Fair years ago when the girls were at Helen Ball Elementary School in El Paso, Texas. This is the recipe I chose because, well, I had all the ingredients and it looked quick and easy. It was. I took it right out of the oven and we headed over to Annette and Rodney's farmhouse. She brought the empty pan back the next day, raving about how good it was and that she and Rodney were fighting over who got the last of it. Thought I had better fix some and see for myself. I might take this to our Relief Society Fall Activity this month–it's going to have to be a double batch, or I might have a one-man mutiny at my house.
Ingredients:
2 cups all-purpose flour
1/2 cup sugar
2 teaspoons baking powder
1/2 teaspoon salt
1/4 cup vegetable shortening (I used Crisco)
1 egg
1/2 cup milk
1 teaspoon vanilla
2 cups peeled, thinly-sliced apples (I used Galas)
1/2 cup firmly packed brown sugar
1/2 teaspoon ground cinnamon
1/4 teaspoon grated nutmeg (I used ground)
1/3 cup melted butter
1. Preheat oven to 400.
2. In a medium bowl, sift together flour, sugar, baking powder, and salt, then cut in shortening.
3. Combine the egg, milk and vanilla, and beat lightly until well mixed.
4. Add to the dry ingredients and mix until moistened–batter will be stiff.
5. Spread the batter into a well-greased 8-inch square pan.
6. Arrange the sliced apples evenly over the top of the batter.
7. Combine the cinnamon, nutmeg and brown sugar and sprinkle over the apples.
8. Drizzle the melted butter over the sugar and spices.
9. Bake about 25 minutes.
10. Serve warm. MAKES ABOUT 6 SERVINGS.
Source: Angel Arbor Bed & Breakfast Inn, Houston, TX, as published in "Rise & Dine America."