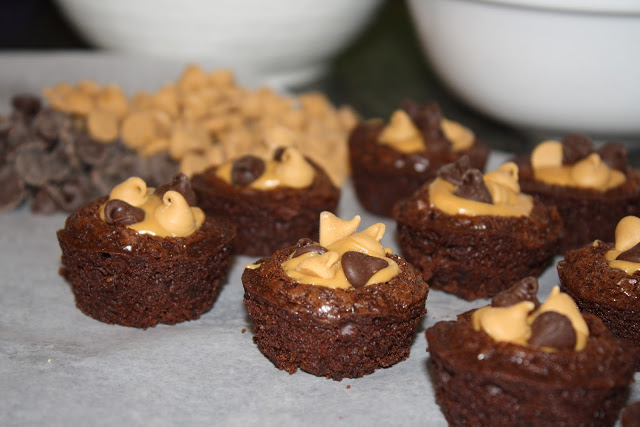 I think I found this recipe on Pinterest way back in February. I used it then to send in for a Valentine party at school for one of my girls. But, this would be a great end of school party treat! This is soo easy!
Mini Muffin pan
Pam
Box of your favorite Brownie Mix
Reese's Peanut Butter chips
Semi-sweet chocolate chips
Peanut Butter
Set oven to 350 degrees. Grease muffin pan. Mix up the brownie mix by the box directions. Fill the muffin pan cups to about 3/4 of the way up. Bake until done…about 15-20 min (depends on how chewy you want them) When they come out of the oven use the back of your spoon, or something rounded that you can press down into the brownie, to form a little cupped space for the peanut butter. (This step must be done immediatly after you remove them from the oven.) Then let them cool for a bit, and dump them out to finish cooling. Melt your peanut butter in the microwave until you could pour it! Then spoon into the brownie cup tops and quickly add the chips. As they cool the peanut butter will stiffen back up and the chips will be set!