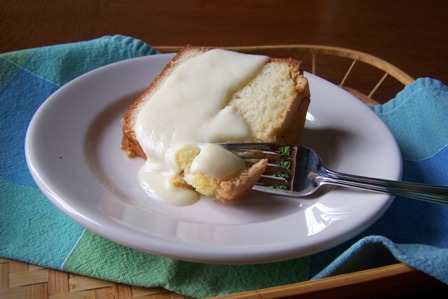 Well, anyone who has read my recipes will figure out that I tore this one out of a magazine. Source is referenced below. The article was about seven pound cake recipes but this is the one that spoke to me. Does cake speak to you? Does it whisper sweet nothings in your ear? I tried this one out this past weekend because Mom and Dad were visiting and also I have this really cute beehive cake stand that was just screamin' for a job to do. This was a very easy recipe and thanks to my Crisco Spray with Flour, it slid right out of the pan, no worries.
Ingredients:
1 1/3 cups butter, softened
2 1/2 cups sugar
6 large eggs
3 cups all-purpose flour
1/2 cup buttermilk
1 tsp. vanilla extract
Buttermilk Custard Sauce (ingredients/instructions listed separately)
1. Preheat oven to 325. Beat butter at medium speed until creamy–I use my stand mixer. Gradually add in the sugar, beating at medium speed until light and fluffy. Add eggs, 1 at a time, mixing just until blended after each addition.
2. Add flour to butter mixture alternately with buttermilk, beginning and ending with flour. Beat at low speed just until blended after each addition. Stir in vanilla. Pour batter into a greased and floured 10-inch (12-cup) tube pan ( I use Crisco Spray with Flour–less mess, same success).
3. Bake at 325 for 65-70 minutes or until a long wooden pick inserted in center comes out clean. Cool in pan on a wire rack 10-15 minutes; remove from pan to wire rack, and cool completely (about 1 hour). Serve with Buttermilk Custard Sauce–also very good plain or with chopped fresh fruit (I am trying it with mangoes next time).
Buttermilk Custard Sauce
Ingredients:
2 cups buttermilk
1/2 cup sugar
1 tbsp. cornstarch
3 egg yolks
1 tsp. vanilla extract
1. Whisk together the buttermilk, sugar, cornstarch, and egg yolks in a heavy 3-qt. saucepan. Bring to a boil over medium heat, whisking constantly, and boil 1 minute.
2. Remove from heat, and stir in vanilla.
3. Serve warm or cold. Store leftovers in an airtight container in refrigerator up to 1 week.
Source: Kathleen Smith/Southern Living Magazine