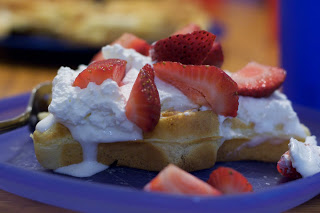 A few years ago, Mr. Blue Eyes gave me my most prized kitchen possession. My Waffle Iron. "Why in the world is a
waffle iron
your most prized possession?" you ask. Because it's not just a waffle iron. It's a CIRCUS waffle iron. Made by
Williams-Sanoma
. And they don't make them anymore. AND it is TOTALLY Awesome. What other waffle maker can make an Elephant, a Big Top, a Clown, and a Lion? None. I mean, check this out!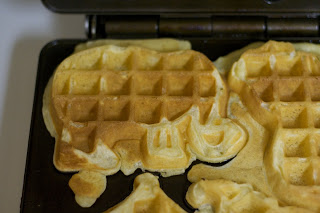 That's right. That's a waffle Elephant. And it is Totally. Freakin'. Awesome.
I did find out that you can get other circus waffle makers
here
. And while they're not the same, and totally not as cool (no Big Top), I'm sure they do just fine…maybe. (And now you know what a snob I really am! 🙂 )
However, this post is not about my waffle maker. It's about the fact that since we got this waffle maker, we are Waffle SNOBS. No more Krusteaz mix-the-water-in mix for us. It's all about homemade goodness.
This recipe came from the Williams-Sanoma booklet that came in the Circus Waffle Maker. It is the recipe that brought us down (or shall I say, UP?) to our waffle-snobby selves. I'm not going to lie: these waffles are not for a morning where you need to whip up a quick breakfast. But they don't take all morning to make either. Trust me when I say, the time is well worth it. Nothing says, "I love you, Family," more than these light, fluffy, waffles.
Enjoy this recipe. I also have a few other waffle recipes that have passed the waffle snob test. Stay tuned for more.
Classic Waffles (aka: The Waffle Snob's Beginning)
1.5 Cups Flour
1/2 Cups Cornstarch
1 Tb Baking Powder
2 Tb Corn Meal (that's right, corn meal. Gives it a special little bite!)
3/4 tsp Salt
1/2 Cup (1 stick) Butter, melted
3 Eggs, separated
1 3/4 C Milk
1 tsp Vanilla
2 Tb Sugar
1. In a Large mixing bowl, sift together the flour, cornstarch, baking powder, corn meal, and salt. This is also when I put my butter in the microwave to melt and plug in my waffle iron.
2. In two small/medium-sized bowls, separate the egg yolks from the whites.
3. Add the milk and the vanilla to your egg yolks and whisk together. Set aside.
4. Beat the egg whites till soft peaks form. Add sugar and then beat until stiff peaks form.
5. Add the milk mixture to the flour mixture and mix until everything is wet and all the large clumps are smooth. Don't over mix!
6. Stir in the butter.
7. Fold in the egg whites. Don't over mix! (This is key to the fluffiness. But I'll tell you, I've over mixed a couple of times…and they still turned out!)
8. Pour into your hot waffle iron (don't forget to spray it if needed) and… Voila! Totally Awesome Waffles.
9. Top with your favorite toppings: syrup, Peanut Butter, jam, whipped cream and fresh fruit. Whatever suits your fancy!
Source: Williams-Sanoma
~Kara