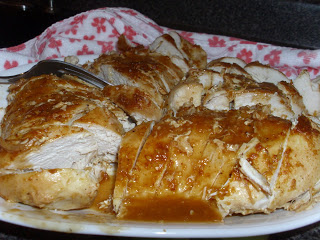 This recipe is so easy and versatile. It tastes like roasted chicken and was created out of desperation for something different with little time left before dinner needed to be on the table. "Roast" extra and use the leftovers for Green and Pasta Salads, Chicken Sandwiches, Soups, many Mexican style dishes. Serve slices as a "roast" or as individual pieces.
Ingredients:

10-14 boneless, skinless Chicken Tenderloins

Non-Stick Vegetable Oil Spray

1 medium to large onion chopped

1 medium to large green pepper chopped

Onion Powder

Lemon Pepper

water as needed
1. Spray large skillet with non-stick spray

2. Place Chicken in skillet. Sprinkle light to medium with Onion Powder and Lemon Pepper – cover

3. Cook on medium high for 8 minutes adding 1/4 cup water after first 4 minutes if chicken is sticking

4. Turn Chicken over and sprinkle lightly with Onion Powder and Lemon Pepper. Add chopped onion and green pepper. Add 1/2 cup water and cover

5. Cook on Medium high until chicken is light brown (7 -8) minutes. Remove Cover

6. Turn Chicken over and cook uncovered until onions and peppers start to and water is evaporated (2-4) minutes

7. Add 1/3 cup water and stir gently. This will create a light sauce on the chicken. Remove from heat and serve.
Source: A Jennie Original