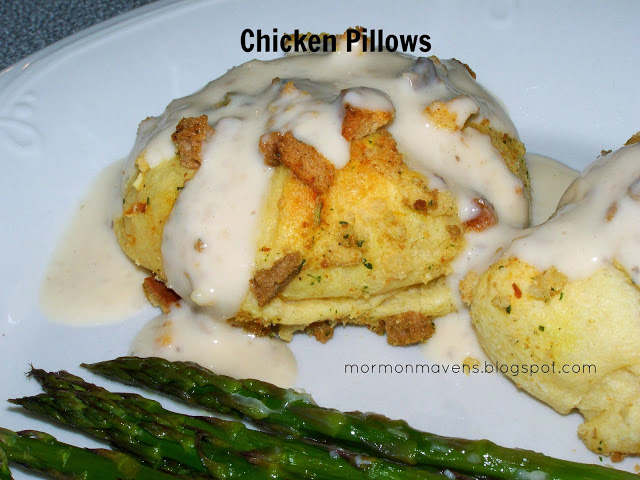 This is one of our all-time favorite go-to recipes. My hubby loves it, my kids love it, and anything with 'pillow' in the name is delightful. It is very easy to put together and freezes well. It is very warm and comfort-foody. When I ask my kids what they want for dinner, this is one that always comes up.
Chicken Pillows
Ingredients:
About 2 cups cooked, shredded chicken
8 oz. cream cheese, softened
4 Tbsp butter, softened
3-4 green onions, finely chopped
3 tubes refrigerated crescent rolls
1 box chicken or turkey stuffing
Melted butter, for dipping
Gravy:
1 can Cream of Mushroom soup
1 can evaporated milk
Directions:
Heat oven to 325 degrees. For filling: cream together cream cheese and butter. Add in chicken and green onions. I use a hand mixer to mix it all together, which shreds the chicken nicely.
Open roll dough. Separate each roll. You will have triangle shapes. With a rolling pin, slightly widen and flatten the wide end of the triangle to make more room to put your filling in. Put about 1 Tbsp of filling in center of wide end. Roll toward point as you would a regular crescent roll. Take open side ends and fold toward center and pinch down so you have a nice little pillow.
Crush stuffing mix a little bit until it is as fine as you would like, I leave mine a little coarse. (Make sure the seasoning and bread crumbs are mixed together) and put in a bowl. Dip chicken pillows in melted butter, then stuffing mix. Place on ungreased cookie sheet. Bake for about 15-20 minutes or until golden brown.
Meanwhile, for gravy, heat soup thinned with milk to desired consistency over medium heat in a saucepan. Serve over hot rolls.
Source: College Roomate 🙂