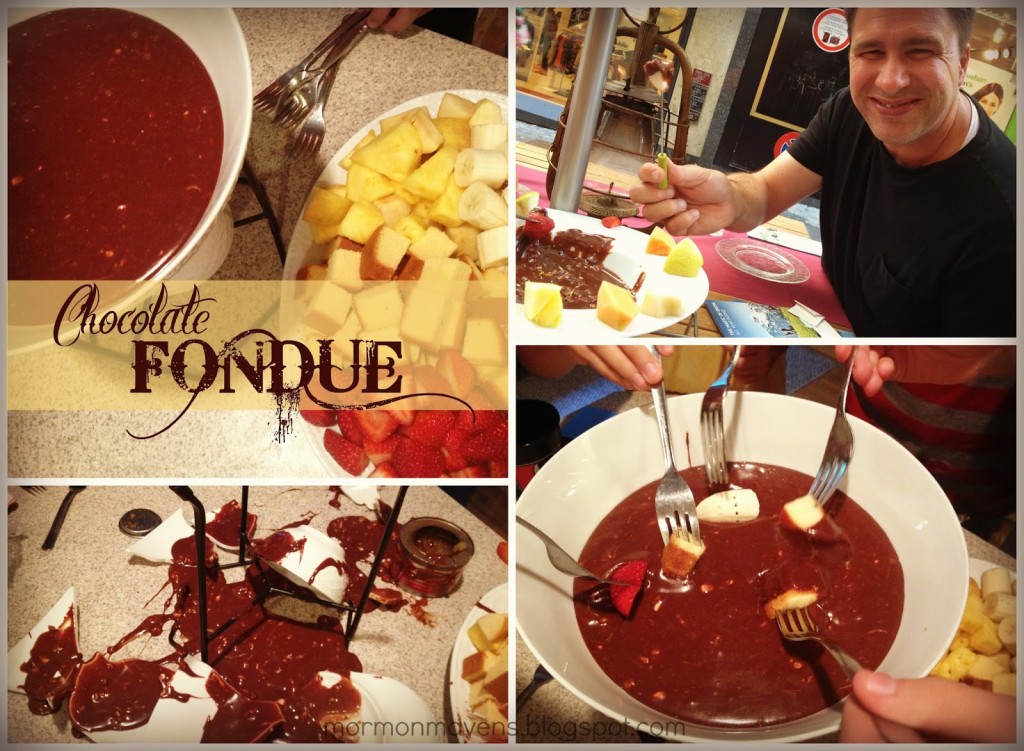 I recently returned from a wonderful river cruise in Europe with my husband and my parents. We had a wonderful time! Our first stop before boarding the boat was Lucerne, Switzerland. Chocolate everywhere! My kind of place. We had lunch one day at a little restaurant on a side street….a fondue house. We grabbed a table outside and checked out the menu. We had every intention of having cheese fondue but when we saw the prices (holy cheese!) we quickly decided on the cheapest fondue item for our meal: chocolate fondue (and that was still really expensive).
It. was. uh. mazing. (That's my hubby in the pic above, enjoying a tasty chocolate lunch in the heart of Lucerne.) Then we found out it was nothing more than melted chocolate bars and cream. What?!? I knew as soon as we got home I had to try this with the kids. So we did. And it tasted exactly the same! Well, until our makeshift fondue pot exploded. Yeah, that wasn't as tasty. The next time we made it we didn't worry about having it on a flame. It didn't stay in the bowl long enough to harden up anyway….we ate it too fast!
Ingredients:
6 small Toblerone bars
heavy cream, about 1/2 cup to start
1. Unwrap the bars of chocolate, break them up, and place the pieces in a saucepan with the cream.
2. Stir while it melts and remove from heat when the mixture is smooth. Add more cream to get your preferred consistency for dipping.
3. Serve with cut up fruit, pretzels, cubed pound cake, etc. My personal favorites are strawberries and fresh pineapple.
You can use any combination of Toblerone flavors. We used half-yellow packaged bar, half blue-packaged bar (I believe those are the technical terms). My local grocery store carries those as well as a dark chocolate and a white chocolate. Mix and match to your heart's content!
Originally posted on September 30, 2013.