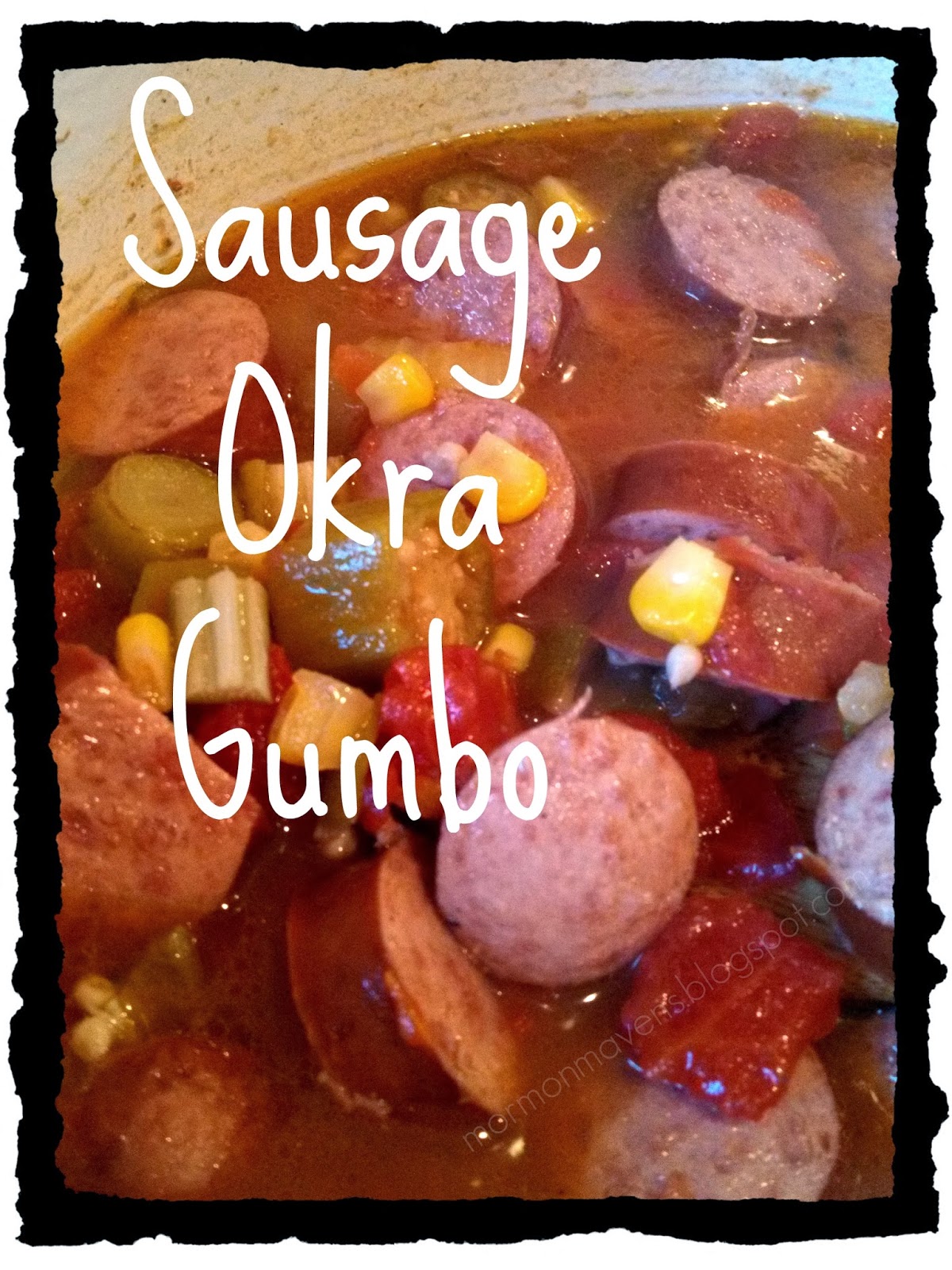 Today I am sharing a family favorite recipe that gets rave reviews no matter when I serve it. Just had it the other night–8 of us for dinner and I doubled the recipe and had one serving left. Yeah, that good. I use
Kielbasa
, but feel free to used whatever type of smoked sausage you would like to. Turkey Kielbasa is also very good.
Mom always made this with Kielbasa. Don't you love saying that word? Kielbasa, kielbasa, kielbasa…
Ingredients:
1 1/2 lbs. Polska Kielbasa ( I just use 2 packages. You can't have too much sausage in gumbo, can you?)
2-3 T. butter
3 T. flour
2 cups chicken broth
18-oz. frozen gumbo vegetables*
14-oz. can of tomatoes, chopped, with juice
1 1/2 t. salt (you may want to adjust down, depending on how salty your meat choice is)
1/4 t. garlic powder
1/4 t. ground red pepper
1 T. Old Bay Seafood Seasoning
3 cups hot, cooked rice
1. Saute cut sausage for a few minutes in a Dutch oven or large pot. Even though these are precooked, I think it improves the overall taste to brown them up just a little bit and it also helps your roux. Remove and set aside.
2. Melt the butter in the Dutch oven. Add flour and cook, stirring constantly, until mixture is deep brown, about the color of an old penny (this is known as making a
roux
).
3. Add broth, vegetables, tomatoes, seasonings, and sausages. Bring to a boil; reduce heat, cover and simmer for 25 minutes.
4. Remove from heat.
5. Ladle gumbo into bowls and top with a scoop of rice. Some people think you should put a bunch of rice in the bowl and then add the gumbo on top. Personally, I like less of a rice ratio to my gumbo. A little scoop of rice on top is perfect for me.
* You can use a combination of okra, corn, onions, celery and sweet red pepper instead of the frozen vegetables. These days that combo is hard to find in the frozen food section.
Source: Pat Brew, Brew Family Cook Book, 1st Edition.
Originally posted on January 24, 2014.