It was one of those days when I just could not think of anything to fix for supper, it was Sunday so I wasn't going to the store, so I checked my "home store" and found a couple of packages of frozen Vegetables for Stew (I don't know why I bought these and don't even know WHEN I bought them), I had one leftover cooked chicken breast, and of course, I had plenty of Thrive Foods to add to any dish. And that, my friends, is how you end up with some crazy soup made from leftovers. And guess what? It tasted really good!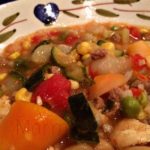 Crazy Leftover Soup
2017-03-08 15:09:37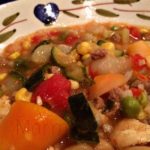 Ingredients
2 bags frozen Vegetables for Stew Mix
3-5 T. of chopped fresh cilantro
1 15-oz. can of Cannelini Beans
1 15-oz. can chopped tomatoes with juice
1 cup cooked brown rice
1 cooked chicken breast, cut in bite size pieces
1/2 c. THRIVE cooked ground beef
1 c. THRIVE Sweet Corn
1 c. THRIVE Green Peas
1 c. THRIVE Zucchini
2 T. Bacon grease
THRIVE Chef's Choice Blend Seasoning to taste
Salt to taste
4 cups of water or more, as needed
Instructions
Dump all the ingredients in a large pot.
Bring to a boil and then reduce heat and simmer as long as you would like to. I did mine until the house started smelling yummy.
Mormon Mavens https://www.mormonmavens.com/