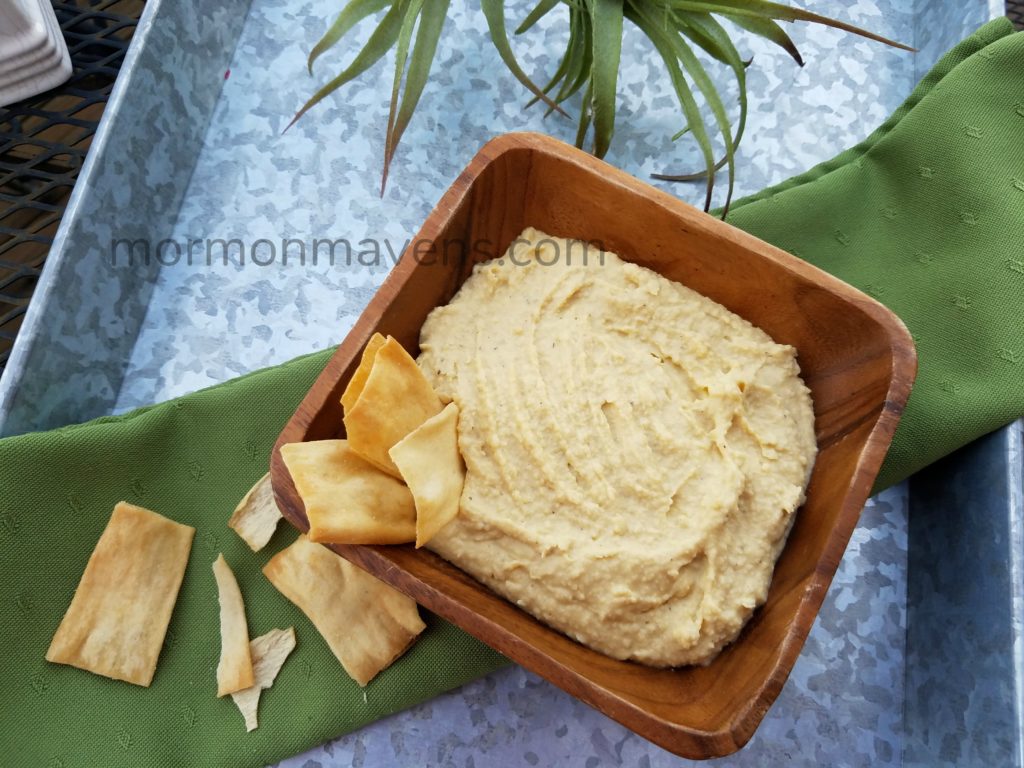 So, I spend a lot of time at our local Family YMCA. Between Yoga, Body Pump and Zumba, I put in about 6 hours a week–and I work out at home a couple of days. Anyway, sometimes our Y staff will provide copies of healthy, easy recipes for the patrons to take home. I have tried a few and they usually turn out pretty tasty. This hummus is no exception. I think it took about 5 minutes or so to put together. It took longer for me to do the "photo shoot" than it did to prepare the recipe.
This is an easy dish to customize, so if you DO like hummus–it's an acquired taste–and you want a little something extra, try these:
Roasted Garlic–for a more mellow flavor, roast the garlic in the oven or on the stove top before adding to the chickpeas.
Roasted Red Pepper–use a small jar of red pepper strips (pimientos) and mix most of the peppers in with the hummus in the blender. For more flavor you can use the liquid in the jar in place of some of the oil. Garnish with a few pepper strips.
Southwestern–Decrease the salt and pepper. Add about 1/8 t. of cumin and a dash of cayenne pepper.
Hummus
2018-02-01 01:07:28
Ingredients
1 15-oz. can of chickpeas, drained
1/4 cup extra virgin olive oil
a few drops of sesame oil
1 t. fresh minced garlic
1 T. lemon juice
1/2 t. salt & 1/4 t. black pepper (to taste)
Instructions
Combine the chickpeas, oils, garlic, and lemon juice in a food processor or blender.
Process to desired consistency, scraping down the sides of the food processor a couple of times during the blending.
If texture is too thick, drizzle in a little more olive oil or a small amount of water.
Scoop into a bowl, stirring in salt and pepper to taste.
Notes
Serve with pita chips, pretzels, or vegetables for dipping.
Adapted from unknown source
Adapted from unknown source
Mormon Mavens https://www.mormonmavens.com/