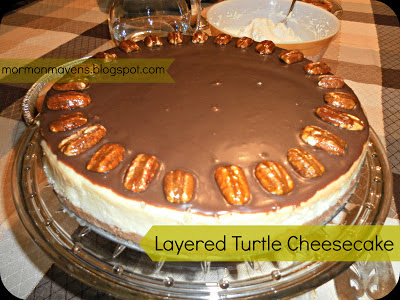 Ingredients
1 cup

all-purpose flour

1/3 cup

packed brown sugar

1/4 cup

finely chopped pecans

6 tablespoons cold

butter

, cubed
FILLING:
4 packages (8 ounces each)

Cream Cheese, softened

1 cup

sugar

1/3 cup

packed brown sugar

1/4 cup plus 1 teaspoon all-purpose flour, divided

2 tablespoons

heavy whipping cream

1-1/2 teaspoons

vanilla extract

4 eggs, lightly beaten

1/2 cup

milk chocolate chips, melted and cooled

1/4 cup

caramel ice cream topping

1/3 cup

chopped pecans

GANACHE:

1/2 cup

milk chocolate chips

1/4 cup

heavy whipping cream

2 tablespoons

chopped pecans

Additional caramel ice cream topping, optional
Directions
Place a greased 9-in. springform pan on a double thickness of heavy-duty foil (about 18 in. square). Securely wrap foil around pan.
In a small bowl, combine the flour, brown sugar and pecans; cut in butter until crumbly. Press onto the bottom of prepared pan. Place pan on a baking sheet. Bake at 325° for 12-15 minutes or until set. Cool on a wire rack.
In a large bowl, beat cream cheese and sugars until smooth. Beat in 1/4 cup flour, cream and vanilla. Add eggs; beat on low speed just until blended. Remove 1 cup batter to a small bowl; stir in melted chocolate. Spread over crust.
In another bowl, mix caramel topping and remaining flour; stir in pecans. Drop by tablespoonfuls over chocolate batter. Top with remaining batter. Place springform pan in a large baking pan; add 1 in. of hot water to larger pan.
Bake at 325° for 1-1/4 to 1-1/2 hours or until center is just set and top appears dull. Remove springform pan from water bath; remove foil. Cool cheesecake on a wire rack for 10 minutes. Loosen sides from pan with a knife; cool 1 hour longer. Refrigerate overnight.
For ganache, place chips in a small bowl. In a small saucepan, bring cream just to a boil. Pour over chips; whisk until smooth. Cool slightly, stirring occasionally.
Remove sides of springform pan. Spread ganache over cheesecake; sprinkle with pecans. Refrigerate until set. If desired, drizzle with additional caramel topping before serving. Yield: 12 servings.