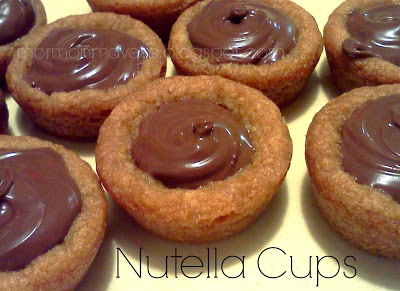 Imagine a chocolate chip cookie, without the chips, in a mini cup shape filled with Nutella. That is what you get with these little devils. They are so rich and so delicious!
Nutella Cups
Ingredients
1 cup butter (softened)
1 cup white sugar
1 cup packed brown sugar
2 eggs
2 teaspoons vanilla extract
3 cups all-purpose flour
1 teaspoon baking soda
1/2 teaspoon salt
Preheat oven to 350 degrees F. Grease your mini muffin tin.
Cream butter and both sugars in bowl until light, smooth and fluffy! Beat in eggs and vanilla until fully incorporated. Gradually add dry ingredients (flour, salt, baking soda) until all the flour is mixed in!
Put a hunk of dough in each mini muffin tin and bake for 10-12 minutes, until golden brown but not too dark around the edges.
When done, remove from oven and let sit for about 2 minutes. Then make wells for the nutella with a tart shaper or a similar object or a spoon. Add 1 dollop of Nutella to each cup – it will start to melt quickly so you can swirl it around and make it nice and smooth.
Let cool 15-20 minutes in tin.