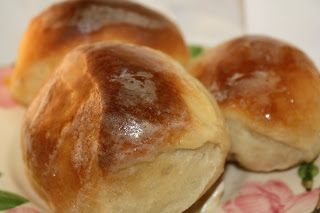 Baking bread is a hobby of mine. ..and I love to eat it! Here is a recipe I found courtesy of 'Taste of Home'. These rolls are very soft and yummy smeared with butter or honey.
2 medium Potatoes, peeled and quartered
1-1/2 c. water
2 packages (1/4 ounce each) active dry yeast
1 tsp. sugar
1/2 c. butter or margarine, melted
1/2 c. honey
1/4 c. vegetable oil
2 eggs
2 tsp. salt
6-7 c. all-purpose flour
In a saucepan, bring potatoes and water to a boil. Reduce heat; cover and simmer for 15-20 min. or until tender. Drain, reserving 1 cup cooking liquid; cool liquid to 110-115 degrees. Mash potatoes until there are no lumps; set aside 1 cup to cool to 110-115 degrees (save remaining potatoes for another use.)
In a mixing bowl, dissolve yeast and sugar in reserved potato liquid; let stand for 5 minutes. Add reserved mashed potatoes, butter, honey, oil, eggs, salt and 1-1/2 cups all purpose flour; beat until smooth. Stir in enough remaining flour to form a soft dough. Turn onto a floured surface; knead until smooth and elastic, about 6-8 minutes. Place in a greased bowl, turning once to grease top. Cover and let rise in a warm place until doubled, about 1 hour.
Punch dough down and turn onto a floured surface; divide into 30 pieces. Shape each piece into a ball. Place 10 balls each in three greased 9″ round baking pans. Cover and let rise until doubled, about 30 minutes. Bake at 400 degrees for 20-25 minutes or until golden brown. Remove from pans to wire racks to cool. Smear with butter over the tops. Yield: 2-1/2 dozen.