If you follow us on Instagram, you have already seen this picture. Not your typical beautifully crafted finished product recipe image, right? But, the technique used to shred this chicken is such a game changer, you will appreciate why I shared this.
Besides, there wasn't a particular dish that I was preparing this chicken for. There are many ways you can use this Chicken Chile Verde. Let your imagination run wild with that.
When I made this yesterday, I just scooped some of the chicken into a couple of romaine lettuce leaves and added chunks of avocado–low carb diet is happening right now. Sort of. You know what I mean. My husband, however, made a burrito with his portion.
So, enjoy this recipe and the many ways in which you can use it. I would bet you could freeze it, as well, for future use.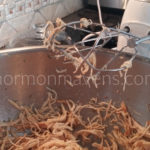 Slow Cooker Chicken Chile Verde
2019-07-16 03:16:35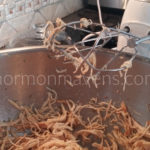 Ingredients
4 boneless, skinless chicken breasts*
1 medium onion, diced
1 bottle Herdez Salsa Verde
2 t. chili powder
1-2 t. ground cumin
2 cloves garlic, minced
Instructions
Rub the chicken with the chili powder and cumin. Place in a covered dish and marinate overnight in the refrigerator.
When ready to cook, place chicken in slow cooker; add garlic, onion and then top with the Salsa Verde.
Turn slow cooker to low and cook for 8 hours.
To shred, remove the chicken from the slow cooker to a large mixing bowl, leaving the liquid inside.
With a mixer (I used a hand mixer) shred the chicken--literally takes less than 10 seconds. I think I had my setting on about 2 or 3.
Return shredded chicken to the slow cooker and toss to coat with the liquid.
Serve in a variety of ways.
Notes
Original recipe calls for 6-8 chicken breasts, but I used a pack of 4. You may want to increase your seasonings if you use that much chicken.
Adapted from PaleoBurn Fat Burning Cookbook
Adapted from PaleoBurn Fat Burning Cookbook
Mormon Mavens https://www.mormonmavens.com/