As you already know, we first began blogging with several more contributors. We like to highlight recipes from the past that received a lot of views. Our sweet Aubrey shared this Beef Tips recipe. We sure miss her, as she lost her long battle with cancer several years ago.
So here is our remake of this dish, with no changes other than adding some broccoli as a side dish.
It's tasty and you know how good your kitchen smells when something's in the slow cooker!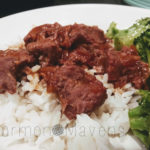 Beef Tips
2019-11-06 10:58:07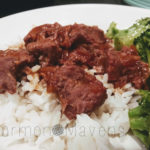 Ingredients
1 lb. beef tips (any cut of beef roughly chopped)
1 can golden mushroom soup
1 can French onion soup
1 package dry onion soup mix
Hot cooked rice
Instructions
Place all ingredients in slow cooker.
Cook on low for 5 to 6 hours.
Serve over hot, cooked rice.
Notes
Ingredients double easily.
Great dish for sharing.
Adapted from Aubrey Williford
Adapted from Aubrey Williford
Mormon Mavens https://www.mormonmavens.com/