This was a very popular post from December 17,2015, especially during the holiday season and into the New Year. Anna served it as part of her Christmas Eve meal appetizer offering this year. Just can't tell you how good this is so you will have to experience it for yourself.
Don't be afraid of the horseradish! It's a subtle kick and the sweetness of the preserves and marmalade pair well with it.
I must apologize for the size of the cream cheese block on the image. Someone–who shall remain nameless–decided to cut a chunk off for their bagel one morning. Although the whipped cream cheese container was RIGHT NEXT TO IT. Just sayin'. I really need to label my blog recipe ingredients or something.
And a shout out for holding on to your Mom's wedding china. This is served on a salad plate from her pattern. I have this and a bread plate. I try to use these treasured pieces from Mom, and from my grandmothers, to honor their memory and their homemaking.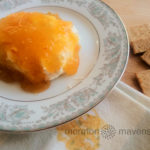 Jezebel Sauce
2019-12-26 03:39:44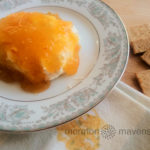 Ingredients
18-oz. jar of pineapple preserves
18-oz. jar of apricot preserves
1/2 cup orange marmalade
3.5-oz. jar of prepared horseradish
1 tablespoon dry mustard
8-oz. pkg. of cream cheese (I use the lower fat Neufchatel version)
Instructions
Combine all ingredients and store in refrigerator. This will keep well for about 2 weeks. Makes about 3 cups of sauce.
To serve, pour over cream cheese and serve with snack crackers, or use your imagination! But it's really good on cream cheese. I bet it would be great on a cream cheese bagel.
Adapted from Paula Deen
Mormon Mavens https://www.mormonmavens.com/