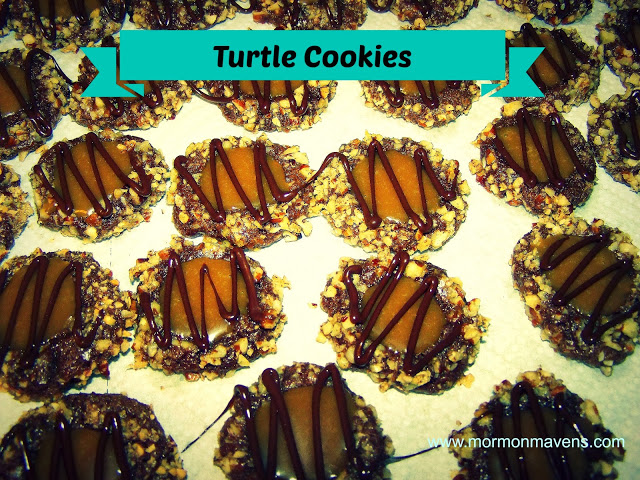 These might be my new favorite cookie! They are soft, the caramel is gooey, and aren't they pretty? The perfect holiday cookie. They were also not difficult at all and pretty foolproof, which is always a bonus!
1 stick (8 Tbsp.) butter, softened
1 large egg, separated, plus one additional egg white
1 1/4 c. finely chopped pecans
14 traditional caramels (I used Werther's soft caramels)
2 oz. semi-sweet chocolate chips or chocolate bar
Combine flour, cocoa, and salt in a bowl and set aside. Beat butter and sugar with electric mixer on med-high speed until light and fluffy, about 2 minutes. Add egg yolk, vanilla, and milk until incorporated. Reduce speed to low and add flour mixture just until incorporated. Do not overbeat.
Wrap dough in plastic wrap and refrigerate at least one hour.
Whisk egg whites until fluffy (by hand). Place pecans in a separate bowl. Roll dough into 1 inch balls. Dip in egg whites and then roll in pecans. Place on cookie sheet at least 2 inches apart. Use the back of a 1/2 teaspoon measuring spoon to make an indentation in the center of each cookie. Bake at 350 until set, about 12 minutes.
For caramel filling: Microwave caramels and cream, stirring occasionally, until smooth and melted, about 1-2 minutes.
When cookies come out of the oven, gently re-press indentations. Fill with 1/2 tsp. caramel filling. Let cool on the pan for 10 minutes, then remove to wire wrack.
Melt chocolate and shortening together in a plastic bag dipped in hot water. Cut tip off bag and drizzle over cooled cookies.
Source: America's Test Kitchen