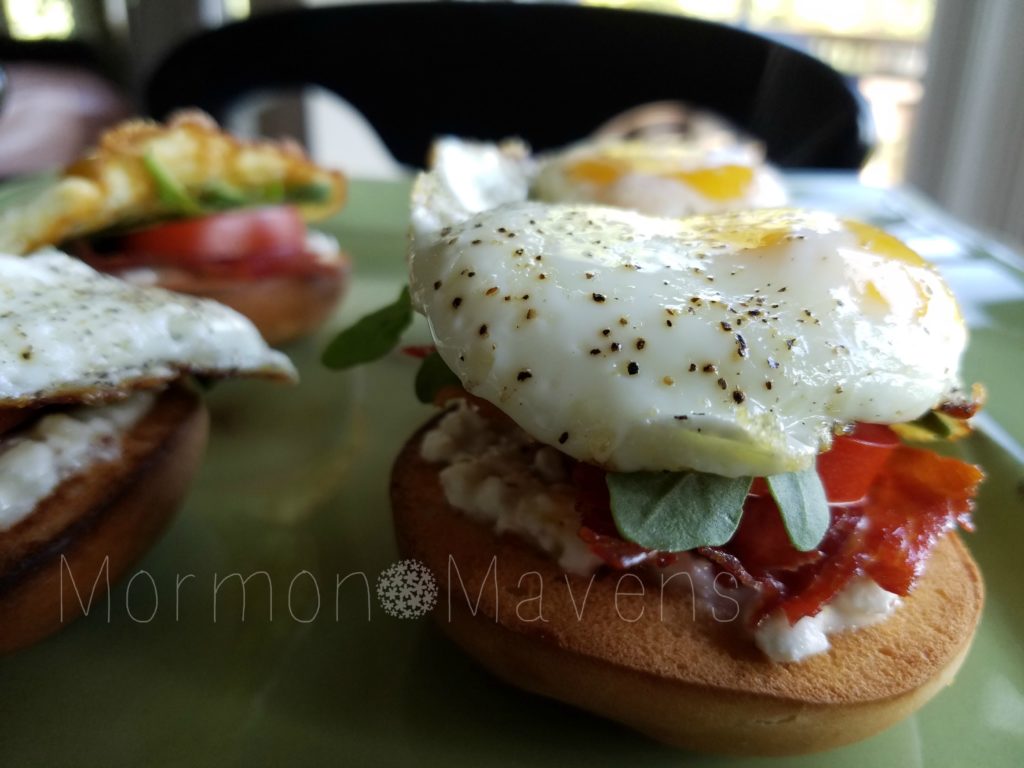 What are some of your favorite cooking shows on TV? I have several and one of them is Giada at Home . First of all, she lives at the beach and being able to see the ocean from the window behind her is awesome. Second, she whips up some of the most delicious looking dishes I have ever seen on television and she makes it look so easy.
Don't even get me started on the episodes she films in her outdoor kitchen in Italy. Oh my!
One day I happened on her show and she was in that outdoor Italian kitchen and making items that she likes to prepare for herself and her daughter for breakfast. Her daughter isn't much of a breakfast gal, but Giada always manages to make something she is willing to eat.
Like, who is not going to eat something Giada makes–plus she is the mom.
The Breakfast PLT (Pancetta, Lettuce & Tomato) is one of the coolest looking dishes that I have seen on the show. It's a crazy take on the tradition BLT sandwich we all know and love, but this one is served at breakfast.
I made these this morning before church, and honestly it was so easy to prepare. I don't know why I waited so long to share the recipe. I even bought the pancetta way long ago. Let me tell you, that "Italian bacon" has a long out-date! I still have a couple of weeks to use it up.
Breakfast PLT
2018-08-26 09:21:45
Ingredients
1 T. whole-grain mustard
1/4 cup water
1/2 cup small curd cottage cheese (original recipe calls for 4 oz. fresh goat cheese at room temperature)
4 mini bagels, split
2 t. extra-virgin olive oil
8 thin slices pancetta
8 small eggs, room temperature (original recipe says quail eggs)
kosher salt and freshly ground black pepper
2 Roma tomatoes, cut into 1/2-inch slices
1 cup baby arugula (or romaine or butter lettuce would be good)
Instructions
In a small saucepan over medium heat, bring the mustard and 1/4 cup water to a simmer. Whisk in the cottage or goat cheese until combined. Set aside; it will thicken as it cools.
Toast the bagels until golden brown and crispy. Set aside.
In a medium nonstick skillet, heat 1 t. of the olive oil over medium heat. Add 4 slices of the pancetta and cook until golden brown and crispy on both sides, about 2-3 minutes per side. Drain the pancetta on paper towels. Repeat with remaining pancetta.
Heat the remaining 1 t. of olive oil in a small frying pan over medium-low heat. Crack the eggs, into the pan. If using small eggs, two at a time works. Quail eggs, 4 at a time. Sprinkle with salt and pepper and cook until the whites are set but the yolks are still runny, 2-3 minutes. If you are not using quail eggs you will need to "train" your egg whites so that they won't be too big for the PLT. I just use my spatula and try to corral the whites closer to the yolk. Remove to a plate and repeat with the remaining eggs.
To build the PLT: Spread each bagel half with 1 T. of the cheese sauce. Layer with a slice of pancetta, slice of tomato, and some arugula. Top with the fried egg and a grind of freshly ground black pepper. Serve.
Notes
This makes 8 servings and that is fine if you are serving other foods along with these. If not, this would be more like 4 servings--2 per person.
Adapted from Giada at Home
Mormon Mavens https://www.mormonmavens.com/