I remember making a version of these delicious morsels as a teenager. Back then I think I pulled the recipe from the Fannie Farmer Cookbook. But recently I noticed that The Pioneer Woman had a version in her first cookbook. My daughter decided to give them a try and they were even more delicious than I remember.
Truly, they just melt in your mouth. I dare you to eat just one.
Ingredients:
3 cups all-purpose flour
3 tsp. baking powder
1 tsp. salt
1/2 tsp. nutmeg
1 cup sugar
2/3 cup shortening
2 eggs
1 cup milk
——–
Coating:
2 sticks butter
1 1/2 cups sugar
3 tsp. cinnamon
1. Preheat oven to 350 degrees. Lightly grease 12 muffin cups.
2. In a large bowl combine the flour, baking powder, salt, and nutmeg; stir to combine and set aside.
3. In another large bowl, cream the sugar and shortening together. Add in the eggs and mix well to combine.
4. To the creamed mixture add: one-third of the flour mix, one-third of the milk. Beat well. Repeat until all the flour and milk have been added.
5. Fill your muffin cups two-thirds full and bake for 20-25 minutes until golden. Remove the muffins from the pan and set them aside.
6. Melt the 2 sticks of butter in a bowl (P-dub uses loaf pans and these work great!). In another bowl (or loaf pan) combine the sugar and cinnamon. Dip the warm muffins into the butter, completely coating each one. Then roll the muffin in the cinnamon-sugar.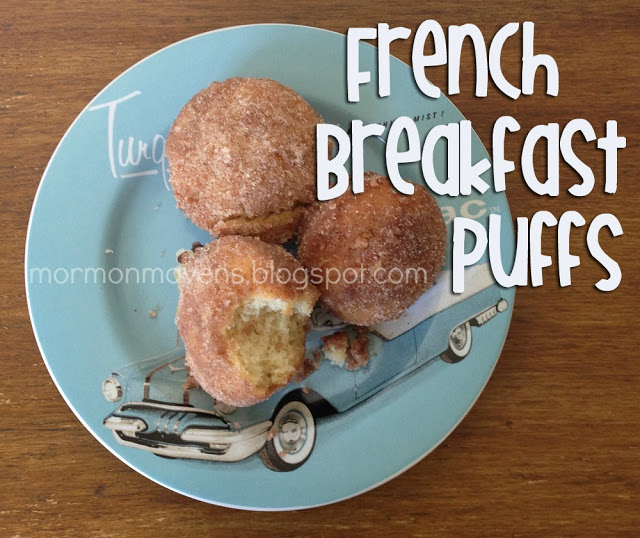 According to P-dub, these freeze well.
Source: The Pioneer Woman Cooks