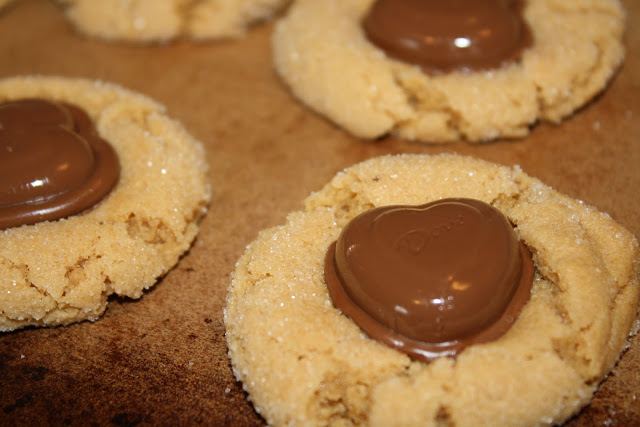 School starts here on August 27th! We are all excited! I have two kiddos that don't enjoy school lunches at all, and the other two pack a lunch when there is something yummy from home they would rather have! I always send love notes, and special treats but,this year I wanted to do something special for the first day of school. These are soo yummy! Peanut butter cookies and a dove heart ontop! Easy peasy! You can make the cookie from scratch or buy the cookie mix for an even easier time of it!
1 package of peanut butter cookie mix
1 package of Dove milk chocolate hearts
white granulated sugar
Follow the peanut butter cookie instructions. After you have formed the cookie roll it in some sugar and place on the cookie sheet or stone…whatever you have for baking. Then bake according to directions. It will take about 8 -10 minutes. Don't let them get to brown.
When the cookies come out, press the chocolate hearts into the center and the cookie will spread out a bit. Let them stay on the cookie sheet for a while cooling off. The heart will melt a bit, as you can see in the picture, but it will cool and stick to the cookie just fine.
After they have cooled completly, remove them from the pan and place them on a rack to let the chocolate set a bit more. It should be comepletly back to normal before you pack them up.