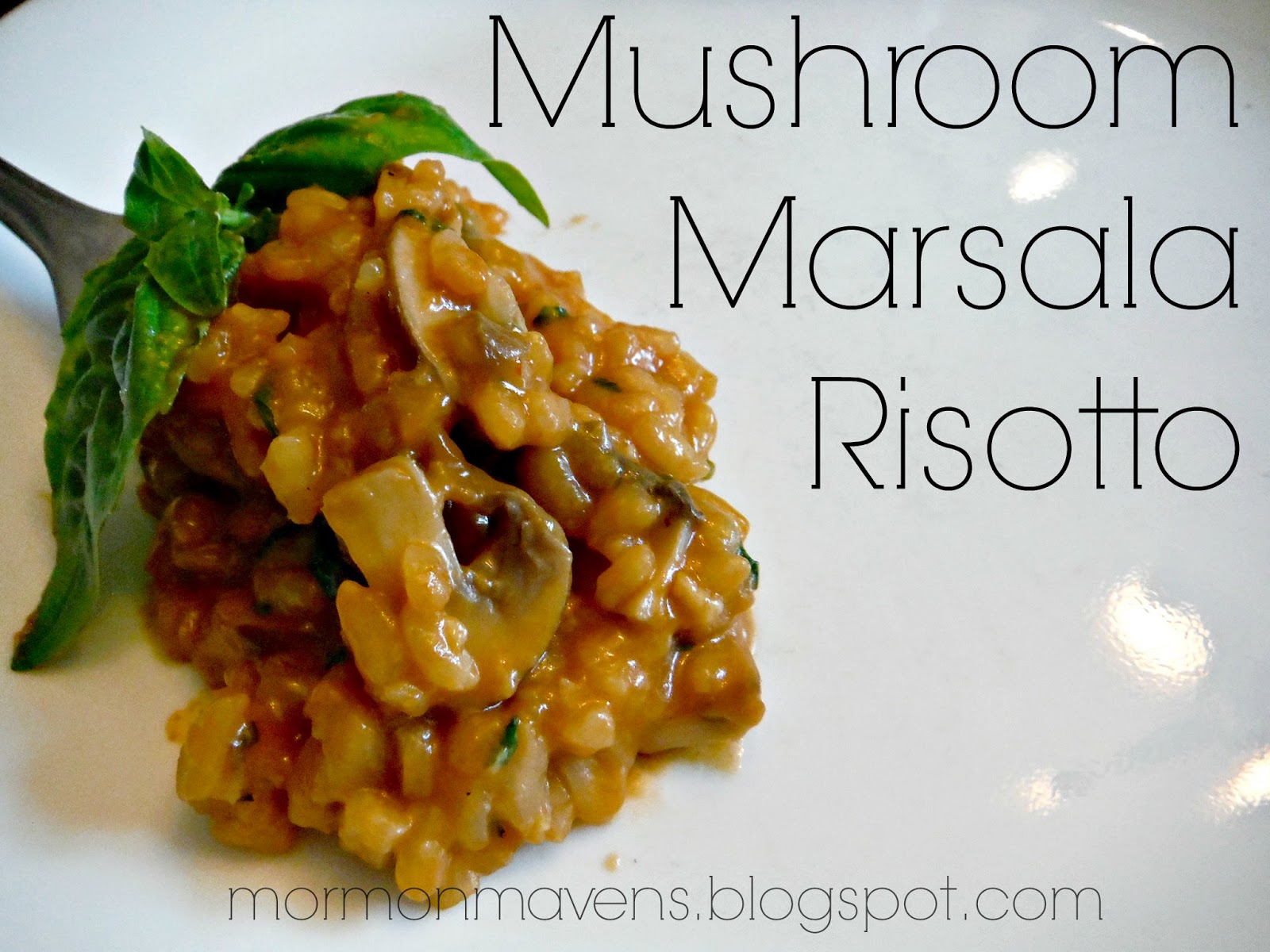 I found this recipe a couple years ago. It takes some time (like most Risottos) and is a labor of love, but it is so very very worth it! It is absolutely delicious. It is one of my favorite things to eat. I normally double the recipe too.
Serves 2 as a main course or 4 as a side dish.
Ingredients:
2 tablespoons unsalted butter
1 medium shallot, minced
2 cloves garlic, minced
1 tablespoon tomato paste
3/4 cup Arborio rice
1 cup Marsala wine, divided
3-4 cups low-sodium broth (chicken or vegetable)
2 cups cremini or baby bella mushrooms, sliced
1/4 cup freshly grated parmigiano-reggiano (I used a lovely grana padano cheese)
2 tablespoons fresh basil, minced (additional whole leaves for garnish, if desired)
kosher salt and fresh ground pepper to taste
Instructions:
Melt 1 tablespoon of butter in a large heavy-bottomed skillet or saute pan over medium heat until foaming subsides.
Add shallots and saute until soft, 2-3 minutes.
Add garlic, tomato paste, and 1/4 teaspoon each of salt and pepper and stir to combine. Cook until fragrant, 1 minute.
Meanwhile, heat the chicken stock in a separate medium saucepan until simmering.
Add the Arborio rice to the skillet and toast until opaque around the edges, 3-5 minutes.
Add 3/4 cup of the Marsala wine and cook, stirring often, until absorbed, approximately 5 minutes.
Stir in 1 cup of the broth, and stir occasionally until almost absorbed, 8-12 minutes.
Working 1 ladle of broth at at time, continue to add broth, stirring constantly. Add the next ladle when the broth is almost completely absorbed.
After you have been cooking the risotto for 10 minutes, stir in the mushrooms. Continue to cook risotto, stirring constantly, until it is al dente, a total of 20-25 minutes.
Remove from heat, and stir in remaining 1/4 cup of Marsala wine, Parmigiano-Reggiano (or Grana Padano) cheese, basil, and remaining 1 tablespoon butter. Season with salt and pepper, to taste, if necessary.
Garnish with basil leaves. Serve immediately.