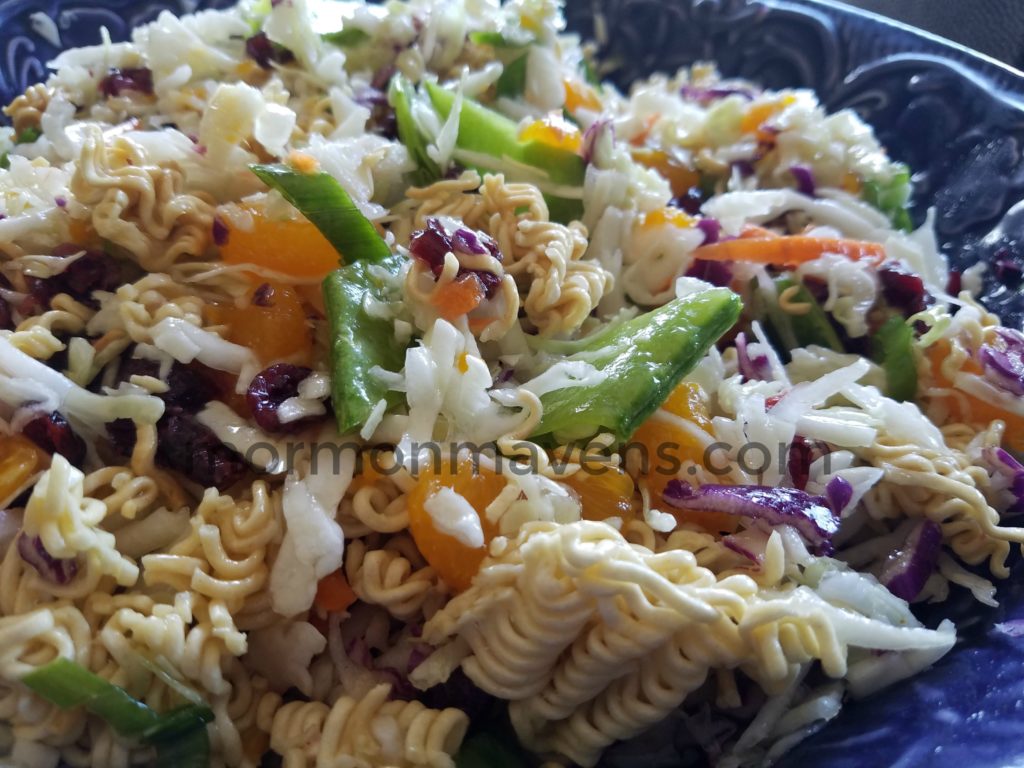 Father's Day was celebrated a day early for us this year so that we could get together with our oldest daughter and her family. They were reserving Sunday for her husband to enjoy an easy day at home after church.
We picked up some amazing deep-fried barbecued chicken from Maw Maw's Kitchen–a local southern diner. That was my husband's idea because he really didn't want to man the grill on his day.
I needed to add a couple of sides, so this ramen-inspired salad was just the ticket. I also added Frosted Salad. Great pairings!
We had a delicious meal and then topped it off with Apple Pie and ice cream. Good thing I had yoga the following Monday morning to start off a new week of working out at the Y. Oh goodness.
Mandarin Sunburst Salad
2018-06-18 14:29:07
Ingredients
2 pkg. ramen noodles, chicken flavor
1 pkg. (14-oz.) Cole Slaw
1 can (15-oz.) Mandarin oranges, drained
1 pkg. (5 or 6 oz.) dried sweetened cranberries
4 green onions, thinly sliced on the diagonal
12-16 snow peas, cut diagonally into thirds
1/2 cup toasted, sliced almonds, divided (Opt. if you have nut allergies)
1/2 cup canola oil
1/3 cup sugar
1/4 cup white vinegar
Instructions
Preheat oven to 325 degrees F.
Open noodles packages. Reserve one seasoning packet for dressing and save other for future use, if desired.
Break up ramen noodles into small pieces.
Arrange noodles on an ungreased baking sheet and bake 10-13 minutes or until lightly browned. Cool on a wire rack covered with waxed paper.
In a large bowl, combine Cole slaw, oranges, cranberries, onions, snow peas, 1/4 cup almonds and cooled noodles.
Whisk oil, sugar, vinegar and reserved seasoning in a small bowl until well blended. Pour over slaw mixture and toss to coat evenly and combine all other ingredients. Sprinkle remaining 1/4 cup almonds over salad.
Notes
This can be prepared 1-2 hours ahead of time and refrigerated to soften noodles. But you do want a little crunch!
Adapted from Fine Cooking
Mormon Mavens https://www.mormonmavens.com/