Okay, I know this is a really easy recipe since you don't have to actually make anything. But when I saw it on Pinterest I just had to try it. You see, I love to have supplies on hand for emergency meals. You know, when you don't have time to cook but don't want to get junky fast food or when someone comes over for a meal unexpectedly…..it's nice to have a few quick-fix meals on hand. THIS is an amazing quick-fixer. In fact, I think this would be a fantastic
Christmas morning breakfast
. I love cinnamon rolls on Christmas morning, but who has time to make those amidst all the other goings-on?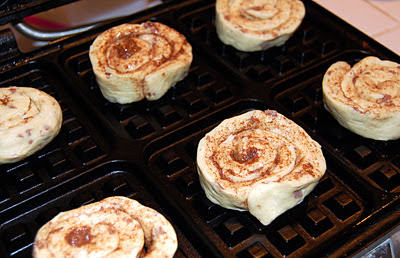 Couldn't be easier!
Ingredient:
refrigerated, uncooked Cinnamon Rolls
1. Place one roll on each square or section of your waffle iron. Close the lid and cook until the done (when they don't wiggle when you press on them).
2. Drizzle with the icing that came with them (or make your own).
DONE!! Seriously…is that not amazing? They taste really good too. I bought two packages (8 rolls in each can) and that wasn't enough for my family. Next time I'd do 3-4 packages. They cook up so quickly that they would be great for a family get-together. They're not very big, so they look like baby waffles. Great for a brunch! Oh, and by the way, you can also use any other refrigerated sweet roll or biscuit. I think I need to try Orange Roll Waffles next…….<drool>
One serving is 2-4 rolls, depending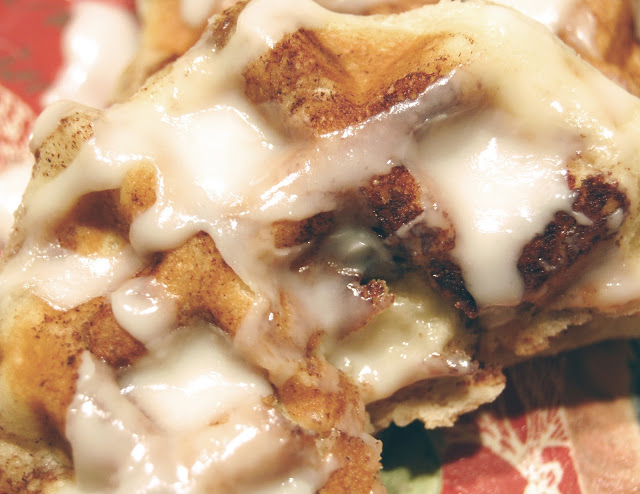 Oh my.
Source: A Hen's Nest
GIVEAWAY IS NOW CLOSED.
And now, what you have been waiting for: The giveaway!
To celebrate Christmas, the Mormon Mavens are hosting a great giveaway from Pampered Chef consultant Heather Lima. Heather has graciously agreed to offer some great Pampered Chef products that are sure to help you with your holiday baking!
Get on with it, you say? Okay, okay…..here's what Heather is giving away to ONE lucky Mormon Mavens reader:
one set of Bamboo Prep towels–soft, plush, and absorbent towels; 22″ x 14″; machine washable and made from renewabale/sustainable bamboo; sells for $17.50
a set of Easy Read Measuring Cups–so great for measuring liquids (no more bending over and looking sideways); standard and metric measures that you can read from above, flared rims prevent drips; set of 3 cups–1-cup, 2-cup, and 4-cup; microwave- and dishwasher-safe; sells for $23
I don't know about you, but I am drooling over those measuring cups!
Interested? Yeah. We thought you would be.
You can have up to 5 entries.

Continental U.S. residents only (sorry!).

YOU MUST LEAVE A SEPARATE COMMENT FOR EACH ENTRY

. Leaving one comment with all your stuff in it counts as one entry!!

Giveaway will run from Monday, December 12 through Friday, December 16.

Winner will be announced on Saturday, December 17. (If we can get your address before Monday, we can get these goodies shipped to you by Christmas Eve!)
You MUST include your email address in each entry you submit so that we have a way of contacting you if you win!

Entries that don't meet the above requirements will not be considered.

Winner will be chosen using random.org.
Here's how you can enter:
MANDATORY ENTRY:

Send an email to Heather at heather_lima@yahoo.com and request a subscription to her Pampered Chef newsletter, then come back here and leave a comment telling us that you did so. (make sure and tell her your first name so she knows how to greet you in your newsletter)
Be a follower of the Mormon Mavens in the Kitchen (and leave a separate comment telling us that you are).

"Like" Heather's Pampered Chef page on Facebook (and then come back here and leave a separate comment here telling us that you did).
Leave a comment on Heather's Pampered Chef page on Facebook telling her what Pampered Chef product you wish was under the Christmas tree for you (and then come back here and leave a separate comment here telling us that you did)!
Leave your contact info for Heather on her "Contact Me" page (and then come back here leave a separate comment here telling us that you did).
Good luck, everyone! And MERRY CHRISTMAS!!