A good sugar cookie can be hard to come by. Who wants to eat cookies that are to floury, cakey or dry? This is a great basic sugar cookie recipe that is sure to be a hit! Crunchy on the outside and tender in the middle.
Ingredients:
1 C. real butter
1 C. sugar
1 egg
1 1/2 t. vanilla or almond extract
3 C. flour
1 1/2 t. baking powder
1/2 t. salt
Directions:
1. Cream butter and sugar until light and fluffy (about 2 minutes). Add in egg and extract and mix until incorporated.
2. In a separate bowl combine flour, baking powder and salt. Slowly add the flour mixture to the butter mixture and mix until completely combined.
3. Separate the dough into 2 balls and wrap each in waxed paper or plastic wrap. Flatten to speed up chilling time. Place in the fridge to chill about 1-2 hours.
4. When the dough is properly chilled, sprinkle a small amount of flour on a work surface and roll dough out with a rolling pin. Roll to about 1/4 inch thick. (don't use excessive amounts of flour while rolling. It toughens the dough.)
* lets take a break for some sugary cuteness!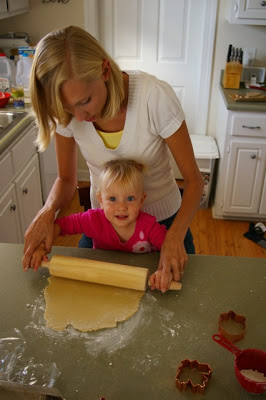 5. Use cookie cutters or a paper pattern and knife to cut out your cookies to desired shapes.
*So easy a toddler can do it!
6. Place on an ungreased baking sheet and bake at 350 degrees F. for 8-12 minutes. The longer you bake, the crunchier your cookies will become. For soft cookies, go for about 7-8 minutes. Remove from pan to cool completely on a wire rack.
Now let's get to the marbleized icing technique! The icing is a powdered sugar glaze, which stays bright and slightly glossy when it dries. Gorgeous!
Ingredients:
1 lb. powdered sugar
6 T. whole milk
6 T. light corn syrup (gives it that nice gloss)
1 t. vanilla or almond extract.
food coloring of your choice
Directions:
1. Wisk sugar and milk until smooth. Then stir in the corn syrup and extract. Glaze should be slightly thin and slowly run off a spoon.
2. Separate glaze to desired containers before adding different food colorings. If you want to have brown icing, use a spoonful of cocoa powder.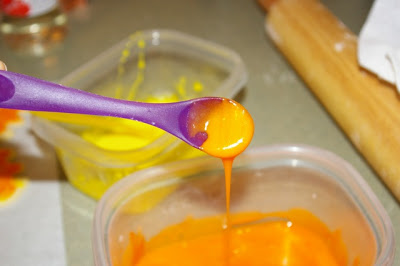 To marbleize the icing, start by spreading a base color all over the cookie.
Lightly drizzle a second color in a random stripes or dots on top of the base color. Then, run a toothpick through the glaze in several stripes diagonally, then again in the opposite direction diagonally. The glazes will run together and make a marbleized effect.
Let the icing dry completely, about 2-3 hours before trying to package them. Have fun and be creative!!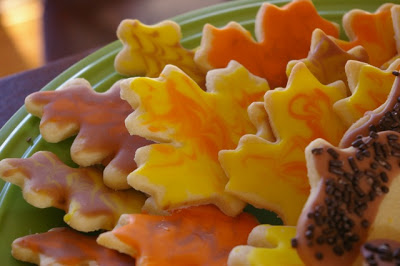 Sources: www.ourbestbites.com and Martha Stewart