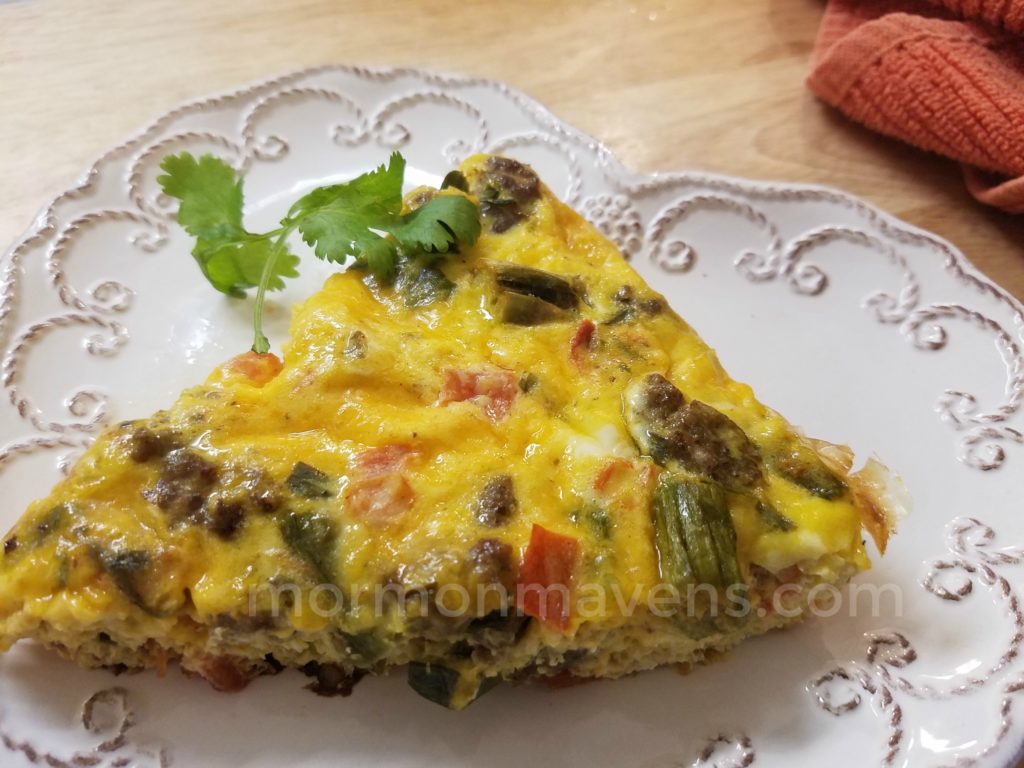 Well this just happened–Frittata in a Flash! I am visiting in my sister's home for a few days and today I was put in charge of throwing together some lunch. We were trying for something kind of Keto and kind of Abs Diet-y and I thought this would do well. I think it is totally Keto, by the way. Keto aficionados, please let me know if I am wrong.
So, I just kind of threw this together. Someone wanted omelettes and this was just quicker since there were 5 of us eating and it was a busy day of errands, odd jobs around the house, and homeschooling. A huge time-saver was using Thrive freeze-dried vegetables.
This was a big hit! And super easy.
Frittata in a Flash
2018-03-19 07:27:00
Ingredients
10 eggs,
Turkey sausage (about 1/4 or so of a bulk package)
2 Roma Tomatoes, chopped
1/2 cup Thrive freeze-dried asparagus
1/4 cup Thrive freeze-dried green onions
2 T. sour cream
1 1/2 cups shredded cheddar cheese (shred your own from a brick of cheese)
Salt and pepper to taste
Olive oil or spray
Instructions
Preheat oven to 350 degrees Fahrenheit.
Refresh the asparagus and onions in a little bit of water in a container with a lid. Shake a few times while you prepare the rest of the ingredients. Drain off excess water before adding to the sausage.
Spray a large oven-proof skillet with olive oil spray and heat on medium-high heat.
Add the turkey sausage and brown it as you chop it into small pieces.
Add the tomatoes, onions, and asparagus and saute for a few minutes to bring out the flavor. Add salt and pepper to taste.
Whisk the eggs to blend well, adding sour cream and cheese. Pour egg mixture into skillet and stir to incorporate the vegetables and sausage.
Cook for a few minutes and then reduce to medium and cook until almost firm. Check the bottom of the frittata to make sure you aren't over browning it, since you will be putting it in the oven.
Put the skillet in the oven for about 8 minutes to complete the cooking.
You're done! Eat it!
Notes
An afterthought: mushrooms would have been a great addition!
Mormon Mavens https://www.mormonmavens.com/