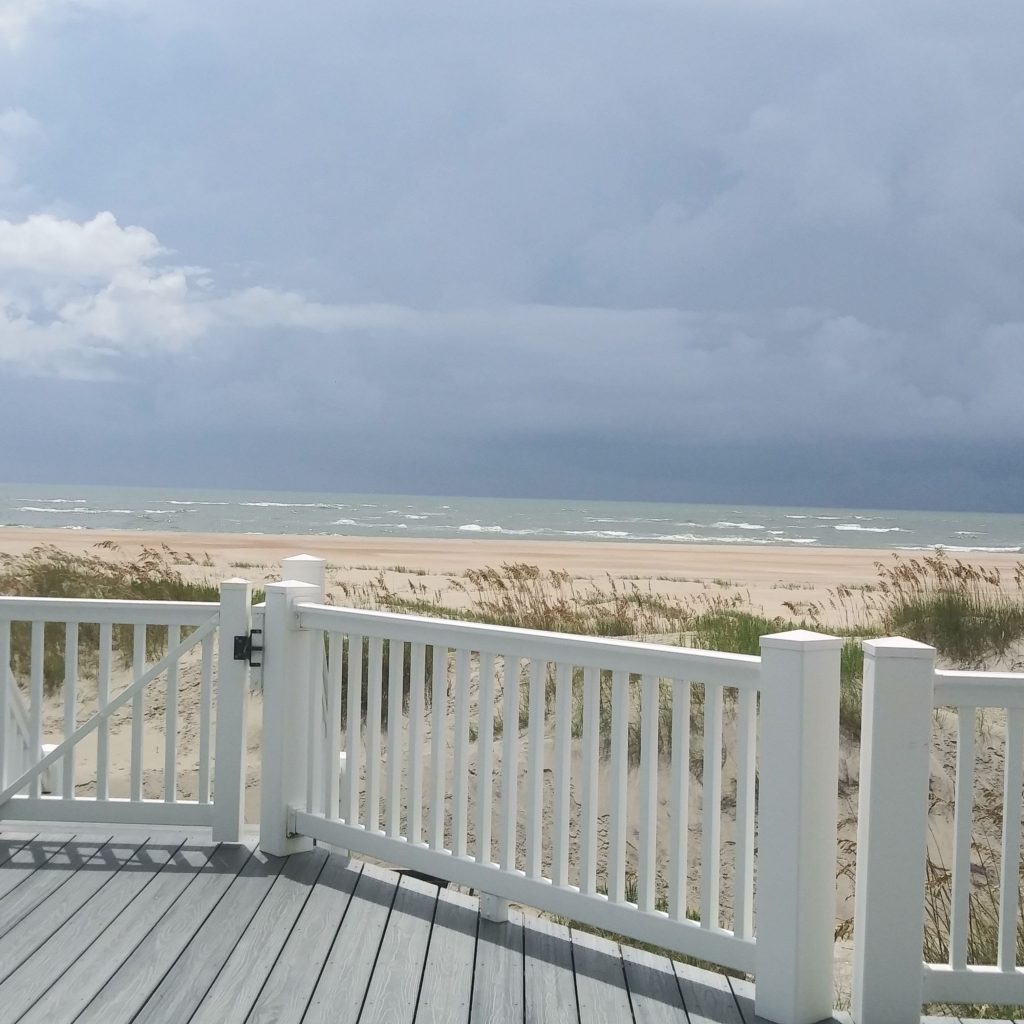 The Beach
I can't get there fast enough and get my toes in the sand! Growing up, our family summer vacation was going to the beach every summer for a week. Our parents would save all year to rent an old, ocean-front cottage and the week was filled with Dad surf-fishing, Mom carrying the beach quilt out and placing it on the sand, and my 3 sisters and I spending the day out in the shallow part of the incoming waves. We played in the sand and jumped around in the water for hours. Of course, there was plenty of Coppertone Sun Tan Lotion (I will use no other because that is the smell of BEACH)–it wasn't called sunscreen back then because it was for TANNING–and pimiento cheese or bologna sandwiches for lunch. Sometimes Dad would catch fish for supper. Over the years the weekly summer vacations eventually turned into my parents buying a beach house and now that's my most favorite place to be. Something about the rhythm of the ocean and the smell of salty ocean breezes, and lots of family memories.
eBags
These are packing MAGIC! The first time I watched their video online, I was mesmerized by how efficient these were and they were having a sale so I just had to buy them, of course. I can't pack without them now! Seriously, I tried to do that about a week ago–could not get a sports bag to work to save me. Out came the eBags and my carry-on and BAM! I was packed for a week…at the beach, of course. I have actually lived out of my carry-on for about 5 or 6 weeks with these bags packed to the brim. Long, but true, story.
Envy Apples
Have you even ever heard of this apple? My sister just told me about them a couple of weeks ago and she said I could get them at Walmart. Well, off I went to buy a few, and they are absolutely delicious! I can't wait to make an apple pie with them. And they are gorgeous!
Modere Dish Wash
You may not have heard of this company, and neither had I until a few months ago when my daughter became a "social influencer" for them. We wanted to help her out by getting her some orders, so I thought I would order their Clean and Fresh Collection. The dish wash smells so light and fresh and I am thinking that it keeps my dish cloths from getting that nasty yucky smell so quickly. I ran out of it the other day and had to use another dish liquid and my cloth got smelly in less than a day! Don't judge. I do use mine for several days if they smell good. Also, the suds last a lot longer, even if I put a greasy dish or skillet in the water. I just run a little more hot water in with my sprayer and it foams right back up.